Recording Software [Mac/PC]
With new MIDI sequencing functionality among many other features, Pro Tools 7 is intended to be the ultimate audio and MIDI workstation. Will this release keep Digidesign on top?
Digidesign's Pro Tools started out mainly as a hardware platform, with most users opting for alternative host software. Since the release of Pro Tools 5, however, the software element has become more important and is arguably now the core of the system, with Pro Tools ' audio recording, editing and mixing tools complemented by comprehensive sequencing functionality.
Pro Tools 7 arrives a whole three years after version 6, but Digidesign have released many significant upgrades in the interim. These added key features such as automatic delay compensaton, Track Punch, input monitor buttons, 23.976 frame rate support, MIDI step input, improved RTAS instrument support, enhanced tempo manipulation and MIDI functionality, AFL/PFL solo, better plug-in organisation, and the new EQ III plug-in. During this time Digidesign have also released a new Icon family of control surfaces (which we'll review in SOS soon), aiming to give people an integrated alternative to traditional mixing consoles, and Venue, a live mixing console based on Pro Tools technology.
In many ways, Pro Tools 7 is the most important release of the Pro Tools software to date. The question is, can Pro Tools really become the only audio and MIDI workstation you'll ever need, as Digidesign are hoping?
Version 7 is the first paid upgrade of the Pro Tools software you can actually buy and download on-line. Another change for version 7 of Pro Tools HD is that the application now requires an iLok authorisation instead of a serial number, regardless of the Digidesign hardware configuration you're running. This stops larger facilities (or even groups of friends) buying one copy of the upgrade and installing on it on a number of different systems, which seems fair enough, and all Pro Tools HD systems already come with an HD Bundle iLok anyway.
Pro Tools LE retains the existing serial-number authorisation process, which is good because not every LE user has an iLok — or any free USB ports! The M-Powered version for M Audio hardware does require an iLok authorisation, but as it's so new, Digidesign are making the version 7 update a free download for existing users.
If you're reading this before December 20th 2005, it's worth investigating Digi's Upgrade Plus option, which costs $70 more for the HD version and $24 more for the LE version, but allows you to choose two extra plug-ins from a very tempting selection. Those ordering upgrades can order upgrade documentation for an additional $15 plus postage, or a full set of documentation for $30. While these manuals are available for free on-line as PDFs, I like being able to have a printed copy on my desk, especially as Digidesign's documentation is generally pretty well written.
To start with, I installed the 7.0 HD update on my dual-2.7GHz Power Mac G5, which was already running the latest customer service release of 6.9.3. I let the installer run over my existing installation and, other than a new splash screen, the process is identical to installing previous versions of Pro Tools.
As mentioned in the main text, with HTDM plug-ins no longer supported in Pro Tools 7, Digidesign have dramatically improved the performance of RTAS plug-ins for both HD and LE users. The engine for running RTAS plug-ins is now multi-threaded and fully supports multiple processor cores (for both dual-processor and dual-core systems) and technologies such as Intel's Hyperthreading. To configure this, there's a new option in the Playback Engine Setup window called RTAS Processors where you can set the number of processors to use for RTAS plug-ins. In Digidesign's tests, the company quote getting a 83 percent improvement when running D-Verb, 60 percent with NI's Battery 2, and 151 percent with EQ III.
In order to test this, I did some experiments with three different PT7-optimised RTAS plug-ins from URS (S Series EQ, Fulltec EQ, and the 1970-CLS dynamics plug-in) on my dual-2.7GHz Power Mac G5 with processor usage set to 85 percent in Pro Tools and a buffer size of 512 samples. In Pro Tools HD 6.9.3, I managed to run 95, 65 and 16 instances respectively of these three plug-ins. In each case, Activity Monitor reported Pro Tools using between 121 and 129 percent of the system, with the User usage between 56 and 72 percent, so despite Pro Tools overloading, it was clear it wasn't taking full advantage of the available resources. PT7 could definitely handle more plug-ins, though with the ones I'd chosen for the test I didn't see the dramatic improvements quoted by Digidesign, achieving 118 instances of S Series EQ, 64 Fulltec EQ s and 23 1970-CLS plug-ins.
Unfortunately, there aren't any improvements for single-processor users, and in fact, Digidesign warn that with certain PT7-optimised RTAS plug-ins you'll actually see a slight drop in performance when compared with earlier versions. I didn't find this to be as severe as it sounds, though: for example, on my Powerbook I could get 34 four-band EQ III instances running in Pro Tools 6.8.1, and exactly the same number in PT7.
The first important point to note is that Digidesign have introduced a new '.ptf' file format for version 7 Pro Tools Sessions which isn't backwardly compatible with the previous format. One advantage of this new version 7 format is that it consolidates Mac and Window compatibility into one consistent format, so the PC/Mac compatibility tick box is no longer there. PT7 will still open older Sessions, and there's an option to save Sessions in a 'version 5.1-6.9'-compatible format if you need to.
The System Usage window now shows the used TDM Voices for Pro Tools HD systems, which is useful to keep track of resources when running a large number of audio tracks and RTAS plug-ins. There are a couple of changes to the mixer in PT7. Fader range is now fixed at the +12dB level which was optional in v6.9, and there's such as support for up to 10 sends per audio channel (split into two blocks of five, so you don't have to waste screen space for sends you're not going to use). There's also support for up to 160 inputs and outputs for audio tracks at 96kHz, a configuration which requires one Core and four Accel cards to support 10 192I/O interfaces — each card supports two interfaces and each interface supports 16 channels of input and output. This follows on from v6.9's support for 160 Auxiliary Inputs, which is vital for large Sessions and especially important to help Icon systems compete with large-format digital consoles that offer a large number of physical inputs and outputs.
Once you have a Session open in PT7, you'll see that, well, it doesn't look too much different from version 6! In terms of the user interface, the appearance is identical to previous versions, and the only major change is a reworking of the menu organisation. Like many users, I feel a certain amount of dread when the menus are reorganised in an application I use on a regular basis, but in this case Digidesign have actually made it easier to find commands in Pro Tools. For example, rather than having dedicated menus for MIDI and Movie operations, along with track-related commands in the File menu, there are now three menus labelled Track, Region and Event.
The Track menu contains commands for creating new tracks, deleting and grouping, along with other track-related functions like Split Mono and Make Inactive. Similarly, the Region menu contains Region-related commands, and the Event menu is where you'll find most of the commands for manipulating MIDI and Tempo Events that were stored in the MIDI menu in previous versions. The Window menu has also been simplified, and there's a new separate View menu that's used to configure the appearance of Pro Tools ' windows. To add a movie to a Pro Tools Session, you now use the File / Import / Quicktime Movie command, and the features for configuring how the movie relates to timecode are now in the Setup menu, as is the old Session Setup window. Overall, this is a big improvement, and many of contextual menus have also been cleaned up in a similar way.
While the visual change in PT7 is pretty minimal, once you start working with the application, you'll soon notice enhanced functionality in almost every area. Even a basic operation such as the Track / Duplicate command now has options for choosing how many copies of the selected tracks should be made and which settings should be duplicated to the newly create tracks. The Show/Hide List from previous versions of Pro Tools is now known as the Track List, with extra options for organising the List in track-type order, by groups, name, and so on. As before, the order of this List is always reflected in the order of the tracks on the Edit window, so choosing a different Sort By option also affects the Edit window. One other user-interface improvement is the inclusion of 'tool tips', so if you hover your mouse cursor over a control for a moment, a handy tip will appear telling you what that particular control is, or does. A further numerical improvement is that PT7 Sessions now support up to 999 memory locations, up from 200.
Perhaps the biggest architectural change in PT7 is that HTDM support has been discontinued. The HTDM format was originally introduced back in Pro Tools 5 days as a way of integrating host-based plug-ins into the TDM mixer. This was necessary because Digidesign's other real-time host-based plug-in format, RTAS, was more limited in the functionality that could be provided. However, HTDM was never a perfect solution: stability was often a big problem, and as host processors got more powerful, it became possible to run more HTDM instances than would be supported by the HTDM Stream Manager, the program that ran on the Pro Tools DSP cards to stream audio to and from the TDM mixer to HTDM plug-ins.
In PT7, HTDM has been replaced with a new RTAS implementation that is more powerful both in terms of sheer performance with the number of instances you can run (see box above for more information), and the functionality of how you work with these types of plug-ins in Pro Tools. RTAS plug-ins can now be used both before and after TDM plug-ins on Auxiliary Input tracks and audio tracks, and it's now possible to add RTAS plug-ins to Master Fader Tracks in the TDM version as well, which is a really welcome improvement. RTAS plug-ins also gain full side-chain capabilities in TDM, and can also be used in the full mono-in/stereo-out configurations.
Pro Tools HD users pay one slight penalty for the more flexible RTAS configuration, though, which is that instead of using a DSP chip to run something like the HTDM Stream Manager, RTAS plug-ins now use the same Voices that audio tracks use to transfer audio to and from the TDM Mixer. Every time audio needs to be sent to or from the TDM world, one voice per channel of the plug-in is used (one voice for a mono plug-in, two voices for a stereo plug-in and so on). So if you have a stereo Auxiliary Input track that takes its audio input from a Pro Tools interface and you use an RTAS plug-in, you need two voices to get the audio from the interface to the host processor, and then when the output of that audio gets routed back to an physical output or buss in the TDM world, you need another two voices. This means that one stereo RTAS plug-in on a stereo Auxiliary Input track requires four voices. If you have two RTAS plug-ins in series on the same track, the output of the first RTAS plug-in gets fed into the second without any trips to the TDM world; but if you put a TDM plug-in in between two RTAS plug-ins on a track, now eight voices are required to run the RTAS plug-ins because the output of the first RTAS plug-in has to go back to the TDM hardware for processing by the TDM plug-in and be sent back again to the host processor for processing by the second RTAS plug-in.
In practice, this is more straightforward than you might think, and unless you run really large Sessions with a large number of audio tracks, you shouldn't find yourself running out of voices with RTAS plug-ins. One nice touch is that the System Usage window now includes a new section telling you the number of TDM Voices currently allocated, which makes it much easier to keep track of your voice usage. As a final note, unfortunately you still can't monitor RTAS plug-ins in real-time on an audio track, even with the new RTAS architecture, but you can at least fudge something by using a combination of Auxiliary Inputs, audio tracks and busses.
You can create multitrack Region Groups that incorporate Regions across multiple tracks of different types.
The ability for RTAS plug-ins to be used anywhere on the Mixer is also quite important for opening previous Sessions that used HTDM plug-ins, because when you open such a Session in PT7, the application will attempt to open an RTAS version instead of the HTDM plug-in and convert the settings, which is really handy.
Not every HTDM plug-in will convert correctly to an RTAS version, but at the time of writing developers are already releasing versions of their plug-ins optimised for compatibility with PT7. For example, when I installed PT7 with my existing Waves installation, none of the HTDM instances would convert to RTAS instances. However, after upgrading to a PT7-optimised Waveshell, the same Session loaded fine with RTAS instances of plug-ins that were previously HTDM.
Many existing plug-ins will run just fine, but some will require new versions. For example, trying to use the TDM version of Sony's Oxford EQ produced an alert telling me 'The plug-in could not be made active because it is not supported in this version of Pro Tools. Please contact the manufacturer for upgrade information.' Interestingly, the RTAS version worked fine. This doesn't seem to be a serious issue, though, as developers seem to be releasing compatible versions, and I'm pretty sure most plug-ins will be PT7-compatible by the time you're reading this — before I submitted this article, for example, Sony had already published a Pro Tools 7-compatible upgrade for the Oxford EQ. If in doubt, check Digidesign's 'Plug-in and Software Compatibility with Pro Tools 7' document (www.digidesign.com/developers/plugin_info/grid) and the web sites of plug-in manufacturers.
Another area where focusing on RTAS and discontinuing HTDM aids compatibility is for LE and M-Powered users, since these lower-cost systems never supported HTDM in the first place.
One last issue concerning compatibility is for third-party host applications. Neither Apple's Logic Pro or MOTU's Digital Performer is compatible with the version 7 DAE for HD hardware, so don't upgrade if you need to use these applications — or create separate 6.9 and 7.0 boot drives if you need to alternate between the latest version of the Pro Tools software and a third-party application.
One area of PT7 that's particularly handy is a collection of new features for dealing with Regions. Instead of having separate Region Lists for audio and MIDI Regions, as in the previous versions, PT7 has just one Region List that details both. Even in areas such as post-production, more and more people these days work by loading sound effects into software samplers within Pro Tools and triggering via MIDI instead of using audio Regions all the time. This means that having a consolidated Region List with its associated commands (such as Find, with its new Find History operations) that doesn't discriminate between MIDI and audio Regions is definitely a good move. If you're worried about MIDI Regions cluttering up your audio Region List, the default option is to sort the Region List by type, so audio Regions are always displayed together at the top of the Region List. But if this isn't enough, you can always choose not to display MIDI Regions in the List from the Region List menu.
Pro Tools 7's Region Groups make it easy to turn this...
...into this. Pro Tools 7 also introduces a new type of Region called a Region Group. As the name suggests, this is basically a Region that consists of a group of other Regions. For example, say you've completed a particular tricky set of edits on several adjacent audio Regions. Previously you might have locked these to make sure the edits didn't get changed accidentally; but what if you later wanted to move the whole lot to a new place, keeping the edits intact? It was possible, of course, but there was also a chance of making a mistake.
Region Groups make this kind of work easy by grouping together a collection of Regions: simply select the Regions you want to group and select Region / Group — the newly created Region Group replaces the original collection of Regions and you can tell it's a Region Group by an icon in the bottom left of the Region. Region Groups show up on the Region List just like any other Region (except with a different icon) and you can manipulate them in the same way you would any other Region — even cutting a Region Group into other Region Group Regions — and all the original internal edits are preserved. And by Consolidating a Region Group you can create a new audio file (and so audio Region) that is a fixed, composite version.
I had to cut together a soundtrack album from a collection of cues recently and this one feature would have saved so much time! In fact, if there's one feature in PT7 that might justify the whole price of the upgrade, this could be it for a large number of users — and it gets better. In addition to being able to group Regions on a single track, it's also possible to group Regions on different tracks, and of different types, into one Region Group. This works in exactly the same way as for grouping Regions on one track — simply select the Regions you want to group and choose Region / Group — and while it's possible to group Regions that aren't on adjacent tracks, it tends to work better if they are.
For example, I tried creating a simple multitrack Region Group from a stereo audio Region and a MIDI Region on the track below, and this worked fine: I could slide the Region around and everything on both tracks was kept together. Once you move a track that contains Regions that are part of a multitrack Region Group, it's still linked in terms of editing (as is the case with ordinary track Groups), but I found some of the handling a little peculiar at this point. In my example, if I moved the MIDI track one track down in the Track List on the Edit window, when I moved one of the separated Regions, the other Region moved with it, as you'd expect. However, if I moved one of the Regions a second time, a copy of just the MIDI Region was left behind in its old position. I think this could be a bug as I can't see any good reason why it would work this way, and it keeps happening even if you bring the separated Regions together again — the only way around it is to ungroup and regroup the Region Group.
Other than this one issue, multitrack Region Groups are great, and I can see them coming in really handy when you're working with multitrack recordings of drums, or anything recorded with multiple microphones. You could also use multitrack Region Groups as an arranging tool, creating different Groups for different sections of a song, and perhaps the icing on the cake is that it's possible to export Region Groups from one Session into other Sessions.
One other neat Region-related feature in PT7, especially when combined with Pro Tools ' new ability to import and work with REX and Acid files, is Region Loops. This enables you to select a Region and loop it over a given period of time. Previously you could use Pro Tools ' editing commands to copy a Region the required number of times, but the new Region Loop commands are much more flexible.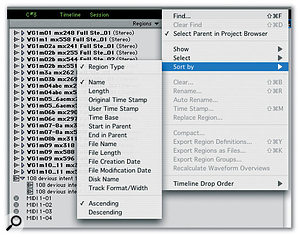 There is now one consolidated Region List for audio, MIDI and Group Regions, and the newly organised Region menu enables you to sort the List to make it more manageable.When you have a Region you want to loop, select it and choose Region / Loop. A window will appear where you can specify whether the Region should loop a certain number of times, to fill a certain amount of space, or simply until it reaches the next Region on that track or the end of the Session. You can enable crossfading for looped audio Regions; the Settings button opens the familiar Fade window where you can configure the crossfade to be used.
A looped Region functions like one single Region after it's been created, and a loop icon will be displayed in the bottom right corner of every complete iteration of the original Region within the looped Region. One particularly nice thing is that you can use the Trim tool to adjust the length of the looped Region, and this will extend out the number of times the Region loops, just like in Acid, or Live, or other loop-based music programs. Another point to be aware of is that MIDI Controller data on MIDI Regions will get looped, but automation data on audio Regions won't, which is exactly right, I think: you can always copy automation data separately if you want it to loop as well, but it's perhaps more common to have a section of audio looping while modulating other parameters, such as volume, or insert effects.
Looping is quite a useful technique for trying out ideas quickly, but once you have your ideas in place, you may want to turn the looped Regions into individual Regions so you edit them individually. To do this, select the looped Region and choose Region / Unloop, and Pro Tools will ask you if you want to Flatten the looped Regions and create an individual Region for every loop iteration.
When you're working with MIDI Regions, it's important to Flatten a loop before making alterations to individual notes: editing notes without Flattening the loop creates additional Regions and the track becomes rather messy, rather quickly. There is one exception to this, though, which is when you have the new Mirrored MIDI Editing mode active. When this mode is active, editing one of the notes in one Region will adjust that note in all instances of that MIDI Region in the Session, and hence within the loop, which is pretty useful.
I mentioned that Pro Tools now supports REX and Acid-format files at the start of this section, and although I didn't have any Acid files to hand, the REX-file import worked very well indeed. REX files can be dragged from the Finder/Windows Explorer or Pro Tools ' Browser window into the Edit window or Region List, although before you do this, it's important to make sure you're dragging the REX file on to a tick-based track so the REX file remains tempo-independent. A REX Region appears on the Edit window as a Grouped audio Region, although you can select a REX Region and choose Region / Ungroup if you want to access the slices directly.
Region Looping makes it easy to work with audio and MIDI loops in Pro Tools, as shown by this looped Region Group that started life as an imported REX file. Looped Regions are identified with a 'looped' icon in the bottom-right corner of a Region.
While Pro Tools started life as an audio recording application, Digidesign's goal these days is clearly to make it into an integrated audio and MIDI production tool that won't need to be complemented by a third-party MIDI sequencer. Pro Tools 6.7 already introduced quite a few new MIDI features, especially with its improvements to tempo editing and manipulation, and version 7 takes Pro Tools sequencing functionality another step further.
Thanks to virtual instruments there are now plenty of people who sequence without using any external MIDI gear that makes a noise, so a great new feature in PT7 is the introduction of Instrument tracks. To use a virtual instrument in previous versions of Pro Tools, you needed both a MIDI track and an Auxiliary Input track that would host the Instrument plug-in as an insert. The new Instrument tracks basically consolidate MIDI and audio track functionality into one track, so you have a single track that accepts a MIDI input and provides an audio output.
Instrument tracks appear on the Edit window as if they were MIDI tracks, defaulting to the Notes View that provides piano-roll-style editing. The MIDI Input is specified in a new Instruments View, available on both the Edit and Mix windows, where there's also a MIDI Output selector that defaults to send MIDI data to an Instrument plug-in that's added, as before, as an insert in the first insert slot. By holding down the Ctrl key when assigning a new output, you can specify multiple MIDI outputs so you can trigger both a virtual synth and an external MIDI box from the same track. The Instrument View also contains a MIDI meter that shows MIDI data being played on that track or being recorded, but doesn't indicate MIDI Thru data, which I found a little curious.
On the subject of MIDI Thru, there's a neat new option in the Preferences for MIDI Thru called 'Follows First Selected MIDI Track', which basically means that if you have an Instrument track selected, incoming MIDI data will be routed to that track without you having to record-enable the track. If you have multiple tracks selected, the first track in the selection receives the MIDI Thru data, and a side-effect of this is that even if you have an audio track selected, MIDI Thru will still be routed to the first Instrument track in the Edit window. Therefore, making your first Instrument track a piano, for example, ensures that you always have something sensible to play.
Since the Instrument track is a hybrid MIDI and audio track, the Instrument View also contains MIDI volume and pan settings, along with a separate MIDI Mute button that mutes playback data, but not MIDI Thru data. This is actually quite nice as it means you can control the internal MIDI volume of a virtual instrument separately from its audio output, for example, which is useful if you've recorded a large amount of Controller 7 (MIDI volume) data but just want to trim the overall audio output for the final mix. And these MIDI volume, pan and mute parameters are available as separate automation parameters from the audio volume, pan and mute parameters.
While you can use the automation features on MIDI and Instrument tracks to record MIDI Controllers, it's perhaps a shame that the MIDI Volume, Pan and Mute controls on the Instrument view (and on MIDI tracks) don't visually respond to MIDI Controllers. For example, if I'm playing a synth in MIDI Thru mode and I'm using the Controller 7, I can hear the synth change volume, but the MIDI volume parameter on that track in Pro Tools doesn't reflect this. Instead it displays the last volume automation event played back, or the last value chosen by the user when dragging the on-screen MIDI volume control.
In addition to separate MIDI controls for some parameters, Instrument tracks, like other audio-based tracks, can accept an audio input in addition to a MIDI input. This is, of course, really useful for vocoders and other audio plug-ins that can accept a MIDI input to modulate an audio signal.
One of the things I like about Pro Tools is that Digidesign are usually pretty good at responding to user requirements, and the Pro Tools 7 upgrade includes many small enhancements that are nonetheless very worthwhile. For example, I know many engineers who have been frustrated at not being able to resize the I/O Setup window in previous versions — and if you have a system with 160 inputs and outputs, you'll soon see why this is annoying! So, for many, the fact you can now do so will be a big, big deal!
Another feature that frustrated me in previous versions was not being able to drag and copy Send slot assignments in the same way you could drag and copy insert plug-ins, but in PT7 this is possible. And speaking of dragging, as with REX files, you can now drag and drop MIDI and audio files from the Finder or Windows Explorer directly into Pro Tools, and when adding multiple Regions to the Edit window you can set whether they should be stacked from top to bottom (on different tracks) or left to right (on the same track). You can also drag and drop audio files from Digibase directly to a plug-in window, for plug-ins that support this behaviour — the new version 7-compatible release of Digidesign's own audio loop-manipulation plug-in Synchronic already does.
A new option on the Edit window is Link Track and Edit Selection (next to Link Timeline and Edit Selection). This means if you select a Region in the Edit window, the track on which that Region is located will be automatically selected.
In previous versions of Pro Tools, all processing on MIDI data happened off-line, and involved manipulating the actual Regions on tracks. PT7 introduces real-time MIDI processing via the new Real-Time Properties window and display section in the Edit window's Track List, the combination of which allows you to process all Regions on a track with a set of global parameters, or set specific parameters that affect only one Region. If you've ever used other sequencers, you should be able to draw parallels to these new features in Pro Tools from concepts like Cubase 's Inspector and Event Infoline and Logic 's Track and Region Parameter boxes.
When you select View / Edit Window / Real-Time Properties a new View Section is displayed against every track, whereby MIDI and Instrument tracks display five new buttons for Quantise, Duration, Delay, Velocity and Transpose. Each of these buttons is an on/off toggle; to enable real-time quantising on a track, you click the Qua button and two additional parameters (resolution and swing percentage) appear to configure the way notes are quantised. The resolution menu allows you to choose the note lengths from a whole note to a 64th note, and there are additional flags for dotted and triplet values. A really nice touch is the inclusion of various 'groove' quantise settings in the style of other, well known sequencers, which you can also access from the resolution menu, including Logic (the infamous 8A, 8B, and so on), Cubase, Feel Injector and the Akai MPC series.
Pro Tools 7 introduces a new track type called Instrument tracks, consolidating an audio-based track and a MIDI track into one. Notice how MIDI controls are provided in the Instrument View section on both the Edit and Mixer windows, in additional to the standard audio controls on the channel.The Duration parameter lets you change the length of notes in a variety of different ways. You can simply add or subtract to a length in musical time (which you can specify either in ticks, or in whole notes to 64th notes of regular, dotted or triplet values), or you can adjust a legato parameter, either to widen the distance between notes or introduce overlap, also in musical time. Finally, you can scale the lengths via a percentage value as well. Delay makes it possible to delay or advance MIDI Events in either ticks or milliseconds, independently of any offsets you might already have specified for a Track or globally in the MIDI Track Offsets window. Velocity enables you to either add or subtract a value from all velocities, or scale the velocities by a percentage. And, finally, Transpose enables you to either transpose note pitches by octaves and semitones, or set all notes to the same pitch with a useful Transpose To command.
There's also a separate Real-Time Properties window, which allows you to set up these five properties for the selected track in more detail than is possible from the Edit window View, with additional options for the Quantise, Duration and Velocity parameters.
When you enable Real-Time Properties on the Edit window for a track, a 'T' appears in each MIDI Region on that track, indicating that those Regions are affected by Real-Time Properties set on a track level. However, it's also possible to set these properties individually for specific Regions, by choosing Region instead of Track from the Apply pop-up menu in the Real-Time Properties dialogue. The letter 'R' will then appear in the MIDI Region instead of a 'T'. Disabling Region-specific Properties again won't set the Region back to using the track's Properties until you click the Clear Region Properties button in the Real-Time Properties window.
If you want to make the Real-Time Properties permanent (which is to say not real-time any more), there's a handy Write to Track/Region button in the Real-Time Properties window that will apply them to the selected track or Region. Clicking Write to Region will process just the selected Region, while clicking Write to Track will process every Region on a track with the track-level Properties. If you have a track that contains Regions with both track-level and Region-specific properties, Pro Tools will display a window asking if you want to process only the Regions assigned to track-level properties, or if you want to set all Regions to track properties and process everything.
The off-line MIDI Operations window has also been enhanced. The Select Notes and Split Notes pages have been combined, generating more options for selecting notes based on velocity, duration and relative position. There's also a new option when splitting notes that enables you set whether the split data gets cut or copied to the clipboard, a new track, or a new track per MIDI note pitch. This puts notes of each different pitch onto a different track, which is useful for 'exploding' MIDI drum parts.
The new Real-Time Properties Edit View section and window enable you to set various properties to process MIDI data in real time on MIDI and Instrument tracks. Here you can see that the first and third MIDI Regions are affected by the track settings (as indicated by the 'T' icon in the upper right-hand corner) while the middle Region is affected by the properties in the window (as indicated by the 'R' icon).The quantisation options have also been consolidated, occupying two pages in the MIDI Operations window, rather than three as before, and including a Randomise option. The Change Duration window has also been improved and includes the consolidated Set/Add/Subtract/Scale pop-up menu from the Real-Time Properties window, and the Legato Gap/Overlap options. There's also a Remove Overlap command, and Transform Sustain Pedal to Duration, which uses any sustain pedal data to adjust the note lengths. Finally, the Transpose page also includes the new options from the Real-Time Properties window as well.
Some of the smaller MIDI improvements include a new Remove Duplicate Notes command, and new options for importing and exporting MIDI files. When importing MIDI files, you now have three separate options as to whether existing Instrument tracks, MIDI tracks and MIDI Regions are removed, in addition to the existing toggle for importing the tempo map from the MIDI file. When exporting MIDI files you can now set a SMPTE start time for the exported MIDI file and whether the Real-Time Properties are applied. And, on the subject of MIDI files, they are now supported in Digibase as well.
A nice touch in the piano-roll MIDI editor is that you can now click on the mini-piano-keyboard with various modifier keys to make pitch-based selections and audition notes. This should be familiar to users who have worked with other sequencers like Cubase.
For me, though, the thing I miss the most when working with Pro Tools as a sequencer is the fact you can't open Regions from multiple tracks in an editor simultaneously. I like the way Pro Tools is mainly a two-window application, for the most part, so I wouldn't want to advocate a new window, but if there was some way of expanding the Edit window to show one large piano-roll-style editor displaying several Regions across different tracks, I think more people would feel comfortable in sequencing with Pro Tools. It's important to see multiple Regions superimposed on top of each other for harmonic reasons, and a dedicated graphical MIDI editor window would also help when you want to see and edit MIDI Controllers and MIDI notes simultaneously without switching to different views.
Pro Tools 7 is a pretty impressive piece of software, and it's an interesting update in that although there are many great new features, it doesn't feel like there's a single really dramatic, life-changing feature. But I don't mean this as a criticism because, instead, it seems Digidesign have just focussed on making the application simply better — every new feature, whether big or small, leaves you thinking 'Oh great, that's really going to help me.' And while the menu structure has changed, it's going to be fairly easy for existing Pro Tools users to adjust: despite the new features, PT7 actually feels less cluttered than version 6!
In terms of stability, I might put my neck out and say that Pro Tools 7 seems like the most stable initial release of a Pro Tools version to date, and this is a good thing. In two weeks' use (albeit only on Mac OS X) the application only crashed twice, and once was when I was trying to push the RTAS processing to the limit for the performance comparisons. But that's not to say PT7 crashes when you run a large number of RTAS plug-ins, because after I had to Force Quit Pro Tools due to the 'spinning beachball of doom', I reloaded the application, performed the same test and everything was fine. The other time was when I was dragging a converted REX Region Group from the Region List to an empty Edit window so that Pro Tools would create a new audio track (which is now possible in version 7), which is a little more worrying, although I wasn't able to reproduce that problem either.
For audio recording, editing and mixing, Pro Tools is hard to beat. It's ironic that these days Pro Tools is regarded as an expensive option, when 10 years ago, Digidesign were hailed as the company to bring affordable hard-disk recording to the masses. And while a Pro Tools HD system is indeed more expensive than purely host-based options, the quality and guaranteed performance it offers are hard to argue with. However, you could contend that the gap between LE and HD hardware has become too great, and maybe a product along the lines of the old Pro Tools Project card that just took care of I/O and left the DSP processing to RTAS plug-ins on host machines would be a good way of bridging the gap.
I'm not sure if I'd want to sequence in Pro Tools myself, mostly because of the lack of a really powerful graphical MIDI editor; but depending on your sequencing requirements, Pro Tools 7 offers the best functionality yet for this task. A friend of mine recently was working with a couple of composers who sequenced an entire film score in Pro Tools 6.9, so with the new features in version 7 the potential is definitely there, and I look forward to seeing more developments in this area in the future.
If you're a Pro Tools user already, the version 7 upgrade should definitely be considered a must-have. In terms of an audio environment, I still think Pro Tools is the standard to beat: it might not have every feature offered by competing products, but it works and is dependable. 
Pros
The improved RTAS support finally gives Pro Tools HD users a solid framework for running host-based plug-ins, and there's a significant performance increase in the new RTAS engine for systems with multiple processors.
The new Region Groups are going to save a lot of time when editing a collection of audio or MIDI Regions.
Instrument tracks help reduce the number of tracks required on the Edit window and Mixer when running software instruments in Pro Tools.
There's some useful housekeeping in this release of Pro Tools, like the new menu structure, and many small improvements, such as a resizable I/O Setup window and the ability to drag Send assignment slots, that will improve the lives of Pro Tools users everywhere.
Cons
Users of single-processor systems might, in some circumstances, be able to run fewer RTAS plug-ins than in previous versions of Pro Tools.
MIDI editing can sometimes feel a little clunky (although it's getting better) compared to other sequencers, and there's no way to view multiple Regions in the space of one piano-roll editor simultaneously with Controller data.
Summary
While there is no single killer feature in Pro Tools 7, Digidesign have instead focused on making the application better for every user, releasing what is overall a must-have upgrade.
information
Basic upgrade for Pro Tools 6 users £105 (HD), £45 (LE); free for Pro Tools M-Powered. See Digidesign web site for options.
Digidesign UK +44 (0)1753 655999.
+44 (0)1753 658501.