Hand-held Vocal Microphones
Lewitt have made some fine impressions in the studio world with their innovative mic designs. Can they do the same for the stage?
Lewitt have already carved a name for themselves in the studio mic market, but they're also pushing ahead in the live–sound world. All their mics are designed in Austria and then built in their own factory, located in China, which helps keep the costs under control without compromising on build quality. Most of their models fall into the mid–price range, and in this review I'll be looking at two hand–held live mics, one dynamic model and one capacitor model.
The dynamic MTP 840 DM features switchable sensitivity and a three–position high–pass filter, but most radical is the fact that it has active, low–noise on–board electronics, which you can opt to use or not. When engaged, these are powered from standard phantom power. In active mode the frequency curve is shaped for studio vocals.
Its super–cardioid capsule, which sits on an isolating suspension, is designed to have a good transient response, while the protective basket assembly doubles as a pop/wind shield. The designers claim that the capsule also maintains a more consistent directivity across the audio frequency range than most dynamic models, which helps mitigate the effects of tonal change when the mic is moved off–axis and also helps increase the feedback threshold. The frequency response extends from 40Hz to 18kHz, which is pushing the limits for a moving–coil microphone, and the quoted sensitivity is 3.5mV/Pa (–49dBV) in passive mode or either 7 or 14 mV/Pa (–43dBV and –37dBV) in active mode.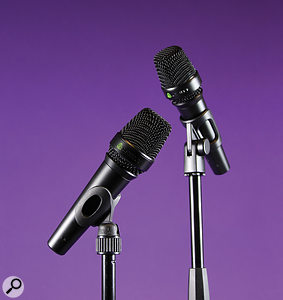 In its active mode, the mic is re-voiced for studio work and offers a dynamic range of 121dB(A) with an EIN figure of 19dB(A). A signal–to–noise ratio of 75dB(A) is quoted, and the maximum SPL is 140dB, depending on the gain setting. The amplifier gain can be set to 0, 6 or 12 dB, while the three high–pass filter settings (off or 12dB/octave at 150Hz or 250Hz) help balance the proximity effect.
Physically, the mic is fairly conventional in appearance and feel with a substantial die–cast metal body and a hardened steel mesh basket, both of which are finished in satin black. The XLR pins are gold–plated to prevent corrosion. The mic is 51mm in diameter at the widest point on the basket, its length is 183mm and its weight is a comfortable 336g. As supplied, the mic comes with a standmount, a foam wind shield and a storage bag.
All the user settings are made using four recessed slide switches that are accessed by unscrewing the basket. You need some kind of pointed device such as a small screwdriver to access these, but this strategy offers absolute protection against someone changing the settings during a performance. The switches are all labelled, though you may need your reading glasses. Tiny LED indicators (which can be turned off if not appropriate) make it easy to check you have the correct setting when working on a dimly lit stage.
In its passive mode the MTP 840 DM is actually quite bright sounding, which is no bad thing in a live environment as it helps cut through the back line, though it can sound a touch sibilant with some voices. Of course you can always roll off a little top on the desk if it sounds too bright. The key point in this mode is that there's bags of clarity and the lows have been rolled back to allow you to work very close to the mic without being overwhelmed by the proximity effect.
Switch to active mode and the tonal balance falls mid-way between a typical live dynamic mic and a studio mic, with warmer lows and less in the way of added presence. Indeed you might be hard pushed to tell the mic from some capacitor models when used this way. In either mode you may need to engage the low–cut filters to avoid popping. The passive mode would be of particular benefit to singers who find that the more common choices of dynamic microphone leave them sounding a touch muddy. This extra brightness could also help compensate when using less exotic PA speakers.
Though the active option is voiced for studio use, it makes a useful alternative for live use where a warmer and less cutting sound is required. As you'd expect from the inclusion of active electronics, this mic costs a little more than most typical dynamic models but it is still very reasonably priced for the quality on offer.
Cosmetically identical and just a hair lighter at 332g, the MTP 940 CM uses a one–inch-diaphragm true capacitor capsule, so it really can be considered as a studio mic in hand–held form. Here the response covers 20Hz to 20kHz. Again the mic has been designed to minimise the effects of popping and acoustic feedback, which are always a challenge in live sound.
With a 135dB dynamic range and a maximum SPL handling of 144dB before engaging the pre–attenuation pads, the direct–coupled circuitry produces a self noise or EIN of just 9dB — better than many dedicated studio mics. Sensitivity is 10mV/Pa (–40dBV) in cardioid mode and standard phantom power is required for operation.
The MTP 940 offers three switchable widths of polar pattern: wide cardioid, cardioid and super–cardioid. As with the MTP 840 DM there are three low–cut filter switch settings (this time at 80Hz or 160Hz as well as flat) and three switchable pre–attenuation pad settings. Those familiar Lewitt LEDs show the current settings, and the three slide switches are safely tucked away inside the basket.
Lewitt say the mic is aimed at vocalists who want to recreate the sound of their studio mics on stage, but equally the MTP 940 CM can be used in the studio by those vocalists who only give of their best using a hand–held mic. This model comes with the same accessories as the MTP 840 DM.
Compared with the MTP 840 DM, the MTP 940 CM is a very 'big'-sounding mic, with robust lows balanced by a detailed yet smooth high end. I tended to use the pattern switch in its standard cardioid position, but having wider and narrower pattern choices certainly makes it more versatile. As suggested by the manufacturers, the MTP 940 CM does indeed sound like a large–diaphragm capacitor studio mic, though even with the low–cut filter set at its highest position, I was still somewhat concerned that the lows might get the better of it if used very close to the mouth, so some extra LF roll–off on the desk might be required. In situations where it's not used very close to the source, the tonal balance should be fine. This is a very classy–sounding mic and is probably best suited to non–rock situations; for example, where a piano–playing singer needs to create a warm, intimate atmosphere with a studio–like quality to the sound. When fighting it out with a loud band, the MTP 840 DM is probably more appropriate.
As Lewitt suggest, there's no reason not to use the MTP 940 CM as a studio mic, either hand–held or standmounted, so if you need one mic that can meet both your live and studio vocal needs, the MTP 940 CM is certainly a contender.
While the dynamic MTP 840 DM in its passive mode has many alternatives, there are only a small number of active dynamic competitors, of which one is Blue's Encore 200. The MTP 940 CM is similarly difficult to place as the only other two multi-pattern hand-held capacitor mics I know of are the Shure KSM9 and the Sennheiser e965.
Pros
Very well made.
Flexible switching options.
Clean sound with plenty of headroom.
Cons
These mics cost more than their passive dynamic counterparts, many of which do a perfectly adequate job in a live environment.
Summary
Both mics uphold the Lewitt reputation for quality and innovation, and between the two models (and their switchable options) there's enough tonal variety to suit just about any voice.
information
MTP 840 DM £209, MTP 940 CM £499. Prices include VAT.
John Hornby Skewes +44 (0)1132 685 381
MTP 840 DM $249, MTP 940 CM $599
TruNorth Music & Sound +1 855 878 6668