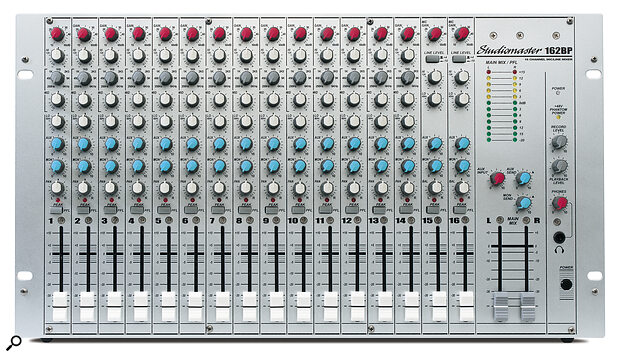 If you need an affordable compact mixer with a decent audio path, a simple to use layout and no unnecessary complexity, be sure to check out this new rackmount model from Studiomaster. Paul White evaluates the 162BP.
Studiomaster's 162BP is a delightfully simple, inexpensive general‑purpose mixer designed for rackmounting. The 6U box provides sixteen simple mixer channels (the last two operating either as mono or stereo channels) with two mono auxiliary busses, one stereo auxiliary return, and a stereo mix buss. Each channel has a single phantom‑powered XLR mic input, and the 14 mono‑only channels also have a single balanced line input, an insert point and a balanced direct output, all of which are on quarter‑inch TRS jacks. The direct outputs mean that the 162BP could be used as a bank of independent recording preamps if required — for example, in the studio where mic inputs are required for a multi‑channel line‑level soundcard, or in live situation where there are a couple of eight‑track recorders to feed. The last two channels each have two line inputs to accompany their single XLR, but no inserts or direct outputs.
The main output for the mixer is on balanced XLRs with TRS jack insert points for both left and right channels. Auxiliary sends and returns are all provided on balanced TRS jack sockets, with unbalanced phono connections to their left for recording to and monitoring from a stereo recorder. Mains power is provided to the mixer via a standard IEC connector, and there is a single switch for applying 48V phantom power globally to all the mic inputs. Note that a system of internal jumpers on each channel of the mixer lets you isolate any selection of channels more permanently from this phantom power source, allowing dynamic, ribbon and capacitor mics to be used alongside each other. A similar system allows you to select the source for each channel's direct output. By default, this is after the channel fader, but it can also be set to be pre‑fader or pre‑EQ instead.
The two stereo channels offer balanced mono mic inputs and balanced stereo line inputs, though there are no insert points or direct outputs. The master output section includes balanced main XLR outputs, TRS jack sockets for the mix buss insert points and balanced auxiliary/monitor sends, plus phono sockets for the stereo tape sends and returns.
Each channel has a Gain control, which provides up to 60dB of gain for the mono‑only channels and up to 50dB of gain for the final pair of mic inputs. The stereo line inputs on channels 15 and 16 can have their sensitivity switched to suit professional +4dBu or consumer ‑10dBV nominal operating levels. All the channels have high shelving EQ operating at 12kHz, and low shelving EQ operating at 60Hz (for channels one to 14) or 45Hz (for channels 15 and 16). All channels except the final two also have a mid‑band sweepable from 250Hz to 6kHz.
All channels have access to two auxiliary sends, one wired pre‑fader (labelled Mon) and one post‑fader (labelled Aux), though the pre/post‑fade assignment of either of these sends can be changed on a per‑channel basis, if necessary, via more internal jumpers. Following the send controls, each channel has a Pan control (Balance on the two stereo channels) and a PFL button with associated red LED that also doubles as a peak warning light. There are no routing or mute buttons and level control is via a 60mm fader.
The master section of the mixer is simpler than most, with 60mm master faders for the left and right mix channels, and stereo bar‑graph meters which double as PFL level indicators when a channel PFL button is depressed. Both auxiliary sends have master level controls, and the single stereo return also has a level control which feeds it directly to the main mix buss. Record Level and Playback Level controls adjust the send and return for a stereo master recorder attached to the rear‑panel phonos, though there's no tape‑return mute button or any monitor source switching. Finally, there is a stereo Phones output (with level control) and a power switch with blue status LED.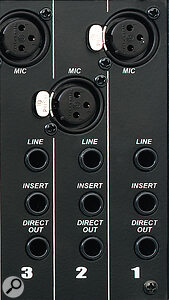 Each of the fourteen mono channels features balanced mic and line inputs, a balanced direct output and an insert point. There are three possible direct output sources, selectable via internal jumpers.
Studiomaster mixers have never really had the benefit of industrial design in the same way as, say, Soundcraft or Mackie units, but in my estimation their sonic performance has been undervalued. They have a warm, solid sound with a very usable EQ section. Though the mic amps are nothing esoteric, they are quiet, clean and musical sounding. I'm glad to say that although the 162BP is at the budget end of the Studiomaster range, it seems to share the same circuit building blocks as the company's larger consoles and I have no problems with its audio performance at all. Inevitably, having a three‑band EQ with swept mid‑band is a little limiting compared with a fully parametric design, but provided that this mid‑band is used either for very gentle boosting or for cutting, it works well. My only real reservation with the mid‑band is that it doesn't go below 250Hz, when many of the 'boxiness' problems that mid‑range cut is ideally suited to addressing actually occur below this frequency.
There are functional features missing that I would have liked to have had, such as EQ bypass buttons and channel mutes, but this has to be balanced against price. This is a low‑cost mixer where most of the budget has gone into performance rather than frills, and this is the way I like it. Visually, the mixer is tidy and easy to navigate, though the knob colours might not be to the taste of some users.
Overall, the 162BP is a straightforward mixer that sounds good, and the direct outs on 14 of its channels make it a useful interface between mic‑level signals and any line‑level recording system. Because it isn't a multi‑buss console, though, it isn't really practical to use the 162BP for monitoring multitrack playback as well as for recording. At a push, in a live eight‑track recording environment, it would be possible to use the pre‑fade sends on eight of the channels to create a mono headphone mix of the off‑tape signals, just to check everything had recorded OK, but this is hardly an elegant solution.
While it may be true that the 162BP is a little basic in the features department, if you're on a limited budget and want to spend your money on audio quality over fancy facilities, then it represents good value.
Pros
Good sound quality with musical EQ.
Direct outputs on the first 14 channels
Straightforward design and layout.
Routing of phantom powering, auxiliary sends and direct outs can be customised by the user.
Cons
Limited mid‑band EQ range.
No EQ bypass or channel mute buttons.
Summary
An affordable and practical little mixer, with direct outs that also make it suitable for use as a multitrack recording front end.