All 60 players of the Budapest Art Orchestra's string section.
Soniccouture's new library steps into a strange new world of sci‑fi and horror.
The modern media composer can no longer get by with a palette of standard sampled orchestral articulations. Aleatoric effects, sound design and non‑traditional playing techniques now play a major part in TV and film soundtracks, and sample libraries have evolved to keep pace. Consequently, most orchestral collections now include unconventional musical effects and processed sounds as a matter of course. Having been in the vanguard of innovative sampled instruments since 2005, UK company Soniccouture are well placed to get in on the act, and their new strings library looks set to become a significant player in the field.
The string players were recorded using over 30 microphones which were mixed down to main (Decca tree), spot and ambient stereo pairs.Named after Penderecki's nerve‑shredding lament for the victims of Hiroshima, Threnody features the Budapest Art Orchestra's full‑blown string section of 16 first violins, 14 second violins, 12 violas, 10 cellos and eight double basses performing 26 avant‑garde articulations devised by Soniccouture's Dan Powell with assistance from composer and orchestrator Felipe Téllez. The 60 players were recorded across their entire range using over 30 microphones which were subsequently mixed down to main (Decca tree), spot and ambient stereo pairs.
Also included are 35 sound design presets, a cluster generator, a micro‑tuning module and the entertaining creative tools Weaver, Jammer and Phraser, the latter now updated with new features (details below). The 12GB library (6.5GB installed with NCW lossless compression) runs exclusively on Kontakt 6 or Kontakt 6 Player version 6.2 or later, with Kontakt Player software available free from Native Instruments' website.
All articulations are presented as single full‑strings presets with instruments mapped according to range over six octaves from C1 to E7. The sections are overlapped and nicely blended so there's no tonal discontinuity between registers. You can access additional high and low notes stretching far beyond the instruments' real‑life limits, or stick within the safety zone by selecting 'authentic range' in the 'options' edit tab.
Before veering off into uncharted realms of madness and horror, Threnody provides a few conventional articulations suitable for general music production. The looped 'simple sustain' long notes are a chance to hear the Budapest musicians playing it straight: utilising a restrained vibrato, they create a strong, bright and positive section sound which leans more towards tough and heroic than romantically lush — unsurprising given the astringent tonal territory this library aspires to.
An interesting long‑note variant, 'diagonal bowing' has the players randomly moving their bows up and down between normal and sul tasto positions. Played with a slightly stronger attack than the simple sustains, this style adds timbral motion, extra overtones and a slight roughness to the sound. Conventional tremolos make the intense, dramatic shuddering we know and love, while the 'chaotic tremolo' artic features the players randomly changing their tremolo speeds, producing a superbly rich and vibrant ensemble timbre.
The close‑to‑the‑bridge 'molto sul ponticello' bowing creates a fabulous thin, icy texture in the violins' upper register. At the opposite end of the pitch spectrum, playing chords in the basses' bottom octave with the 'ponticello tremolo' preset sets off a cataclysmic earthquake‑like rumble, a scary foretaste of the disquieting material that lies ahead.
Threnody begins to show its true colours with the 'micropolyphony' artic. This replicates a compositional device developed by Ligeti, in which similar melodic lines played at different tempi overlap to create (in the composer's words) "a kind of impenetrable texture, something like a very densely woven cobweb." In Threnody the overlapping lines are atonal, unsynchronised and improvised from a fixed note selection within a small pitch range, producing a massed, concentrated flurry strongly reminiscent of the sound of buzzing insects. This unsettling style is thus a shoo‑in for the soundtrack of any horror film with 'Swarm', 'Attack of' or 'Killer Bugs' in its title.
The sense of unease continues with the 'unstable pitch' preset, a nasty, queasy, menacing musical effect in which the musicians use an over‑wide slow vibrato and play out of tune with each other. With its 'behind the bridge' performances, Threnody steps into a pit of horror: the basic arpeggiated style sounds like a screechy, industrial‑strength version of the spooky waterphone effects heard in sound libraries 10 years ago, while the tremolo variant veers off into utter madness, a deranged, hellish cacophony calculated to cause consternation amongst listeners. Do not use these presets on a romantic ballad.
The library includes a suite of Kontakt effects.
'Harmonic glissandi' provide a welcome break from the insanity. Nothing new here — this effect (created by running a finger lightly up and down the bowed string) appeared in Stravinsky's The Firebird in 1910, but its eerie, disembodied slithering still sounds fresh and works splendidly for drones. The 'seagulls' version is a single, determined‑sounding glissando slide down through the harmonic series of the string — ideal for scenes of alien winged creatures swooping from the night sky. Originally played on the open strings of the instruments, these artics are transposed to all pitches.
Threnody also contains conventionally bowed glissandi unlike any I've heard before: rather than the fast risers and downers found in other libraries, these glisses travel slowly and steadily through the entire range of the string orchestra, with instruments imperceptibly joining in or dropping out as the massed unison glissando passes through their pitch range like a non‑stopping slow train. It takes around 70 seconds to rise from Middle C to the top violin note of E7, and just over 80 to descend from C5 (one octave above Middle C) to the basses' bottom note of C1. Astonishing, a tremendous tension‑building dramatic effect. If you want faster rises or falls you can engage Kontakt's Time Machine in the 'options' tab and speed up the glisses by up to 800 percent, though with an attendant drop in sound quality.
While cluster chords are a fairly standard orchestral library fixture, Soniccouture have dreamed up some cool variations. Microtonal tuning makes the familiar jarring groan of adjacent semitones that bit more discordant, and when you play two‑handed chords on the 'cluster sustain' preset, the resulting obliterative, dissonant sheet of noise sounds less like music and more like the end of the world. The tremolo version adds a panicky agitation, while the cluster trills are a study in supernatural terror.
So‑called 'clouds' feature the orchestra playing rapid unsynchronised unison notes, creating a nominal dense cloud of activity. 'Pitched clouds' played in three different styles represent a return to normality: the spiccato version's energetic tremolo‑like fast reiterations sound grandiose when played chordally, the pleasant thrumming of the pizzicato artic evokes the sound of massed tremolo mandolins, while the more percussive col legnos skitter like a shower of pitched raindrops in the high register. 'Cluster clouds' replicate the three artics with the pitches arranged in tight clusters as described above, adding a worrisome, neurotic edge to proceedings.
The final clouds effect is 'Spiders'. Ticking the 'aleatoric' box, each musician plays freely within a two‑octave range in a random and unsynchronised manner. There are two types: played at high pitch, the 'spiders pizzicato' artic resembles the chatter of excited children, while down at the bottom end it sounds like an approaching avalanche. Switch to the col legno version, and the orchestra's cellos and basses now sound like the thunderous clacking of giant looms in some infernal Victorian cotton mill.
A major feature of Threnody is the X‑Y Pad, a four‑way virtual joystick which allows you to mix and crossfade up to four presets in real time. Having selected a preset for each of its four corners, you can use your mouse to move the central pointer around the quadrant: position it centrally and you'll hear an equal mix of the four presets, drag it into the bottom left corner and you'll hear only preset number one, and so on.
Threnody's Articulation page, showing the 'X-Y Pad' four‑dimensional mixer. The blue keyboard notes show the string orchestra's authentic range, with green notes indicating stretched samples extending far beyond the instruments' real‑life range limits. Purple notes mark the instruments' open strings, useful to know for certain articulations which utilise open‑string harmonics.
A simple usage would be to crossfade between two artics such as sustain and tremolo. The X (horizontal) and Y (vertical) controllers are pre‑assigned to MIDI CCs 16 and 17, so with sustains loaded into the bottom left slot and tremolos in the slot above, you can automate crossfades between the two styles by recording MIDI CC17 data into your sequencer. Alternatively, you can use the X‑Y pad's internal transport controls to record tempo‑sync'ed dynamic movements over a specified number of bars.
The X‑Y pad can also modulate different parameters such as pan position, filter cutoff and pitch, the latter a good way of creating psychedelic siren effects. I'm not sure what Ligeti would have made of it, but modern‑day avant‑gardists should have a field day with this powerful feature.
Threnody's sound design presets give a good idea of its extensive sonic capabilities. 'Cluster Sequence', an automated slow, circular crossfade between sustain, tremolo and trill clusters and a micropolyphony artic, creates an accelerating build‑up of tension which brings to mind an Arctic wolf pack circling a group of terrified explorers. 'Shiver' and 'Shutter' are great sci‑fi effects, with the despairing falling sirens of 'Gravitational Arc of Minus Ten' recalling Vangelis' Bladerunner score. If you need shorter sounds for groove programming, 'Col Legno Percussion' shrinks the players' woody bow hits down to a set of small glitchy perc hits, while 'Weaver Shorts' is an excellent starting point for creating polyrhythmic synth sequences.
For those that enjoy tweaking factory presets, there are five parameter editors. The 'Mixer' tab contains the three‑channel mic mixer and a main dynamic fader which defaults to CC1 (mod wheel) control. 'Amplitude' provides a standard ADSR envelope along with velocity, attack curve and expression (CC11) controls, while 'Filter' gives you a choice of 25 filter types and a 'Slim' control which thins the sound by removing some of the fundamental frequency of a played pitch, and is different for each note. The 'LFO' tab houses settings for the LFO's waveform, rate and depth, and LFO modulation settings for pitch, amplitude, filter cutoff and pan. The LFO is tempo sync'ed and can be set to different rhythmic values.
The tuning page includes microtuning presets and pitch instability controls which make each played note drift slightly in pitch — not what you want on a straight pop session, but good for horror and sci‑fi scores!
The 'Tuning' tab is where you'll find the cluster generator, which creates custom cluster chords of up to 12 detuned voices. Not to be confused with the real‑life clusters performed by the string players, this is great for creating detuned clusters, but can also be adjusted to generate diatonic chord voicings. Also included here are a microtuning table and a terrific 'pitch‑bend glissando' effect.
Uniting classic avant‑garde techniques with fresh musical ideas and 21st‑century creative tools, Soniccouture's first orchestral strings library is an unmitigated success.
So, into the future with the past. A harsh critic might say a sample library inspired by late‑20th‑century avant‑garde compositions is a bit passé, but from where I'm standing this looks like a new and welcome development in orchestral sampling.
Rather than a historical rehash, Threnody is a bold step forward: it extends the exploratory string writing techniques of yesteryear with atmospheric and powerful innovations which should catch the ear of anyone looking to create sci‑fi and horror scores or experimental tracks. Uniting classic avant‑garde techniques with fresh musical ideas and 21st‑century creative tools, Soniccouture's first orchestral strings library is an unmitigated success.
Soniccouture followers will welcome the inclusion of three creative tools developed by the company over the years. The 'Jammer' arpeggiator generates user‑configurable, tempo‑sync'ed patterns in a variety of styles, ranges and user‑configurable scales. It can constantly generate new random note data in evolving sequences, or simply loop the last set of notes it created. Suffice it to say that within minutes of activating Jammer I was improvising keyboard solos over an urgent spiccato strings pattern it created, confirmation that this feature lives up to its name.
'Weaver' allows you to define a repetitive rhythm sequence which can be triggered by a single note or played chord. It can create DDL effects, pulses and user‑defined polyrhythms of up to eight independent parts, and you can set the velocity and octave of each rhythmic step within the part. The display looks a little daunting, but don't let that put you off — once I'd figured out the visuals I managed to create some great, exciting rhythmic ostinatos.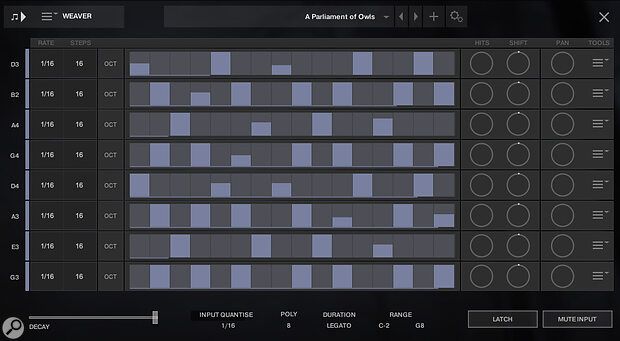 Soniccouture's 'Weaver' feature can be used to generate polyrhythms of up to eight independent parts, a great way of creating exciting rhythmic ostinatos.
Soniccouture's classic 'Phraser' feature lets you create real‑time phrases by recording a series of single notes, then triggering playback with a MIDI note.
Originally created back in 2008, 'Phraser' has been given a makeover. The idea is that you create a phrase by recording a series of single notes, then trigger playback with a MIDI note. Playing Middle C (MIDI note 60) triggers the original phrase; playing any other note transposes the phrase up or down, while playing a chord creates an instant parallel harmonisation. You can alter the playback rate, phrase start point and length, and reverse or randomise the note order. Lots of fun, and a good way of generating new musical angles from a simple string of notes.
Only one caveat: such generative tools generally work best with short, staccato source material, and Threnody's long, evolving samples are anything but that. However, I found that drastically shortening the sustain and decay of the 'pitched cloud' presets reduced the samples to single short events which sounded excellent when phrased, jammed or woven!
Threnody's samples were recorded in Hungary, birthplace of the renowned composers György Ligeti and Béla Bartók. Since the sampling sessions took place during the January 2021 Covid‑19 lockdown, this turned out to be quite a palaver.
Under normal conditions I imagine the Soniccouture team would have headed east from their London HQ, turned right at Poland and fetched up in Budapest where a large string orchestra awaited their arrival, but since international travel was off the menu other plans had to be drawn up.
Soniccouture's James Thompson (who designed the library's GUI and contributed to the sound design) explains: "The session was entirely remote, which worked brilliantly. The orchestra provided high‑res audio streams and multiple camera feeds of the players and control room, as well as photos and video of the recording. They then uploaded the full Pro Tools sessions from which we could mix down. This was our first experience of working this way, but it went very smoothly."
Audiomovers software was used for high‑res audio streaming, with the ubiquitous Zoom handling video and chat. Adding to the sinister atmosphere of this edgy library, the players wore masks; Messrs. Powell and Téllez looked in from Toronto while Thompson maintained a lonely vigil in London, occasionally taking a warming sip of whisky as the wind whistled through the deserted streets outside (OK, I made that last bit up).
Is this the future of orchestral recording? Long before the pandemic struck, UK studios were offering remote sessions with competitively priced European orchestras. What began as a cost‑saving exercise is becoming the norm, but while we miss the buzz of the in‑studio experience and the bonhomie of mingling with musicians, we should be grateful that technology now allows such projects to go ahead in the first place.
If you ask a group of musicians to improvise freely, the results are often less than scintillating. After an initial outburst of random squiggling, honking, scraping, squawking and bleating, the players tend to settle down and repeat themselves on subsequent takes, leading ironically to the hoped‑for glorious pandemonium becoming a predictable set of repetitive aimless noises.
In order to lend purpose to improvisation, composers sometimes use graphic scores which combine standard notation with symbols, images and text. Needless to say, some avant‑gardists went over the top and turned in scores consisting of a series of pictograms or abstract coloured brush strokes, techniques unlikely to generate a catchy tune. Meanwhile, those with a more precise musical focus have devised simple and effective notation techniques to convey the sound they're looking for.
This unconventional notation was used to tell the players to bow behind the bridge, which creates an uncontrolled, screechy fingernails‑on‑the‑blackboard sound.
Some good examples of this occur in the player scores used on the Threnody sampling sessions: the horror‑film 'behind the bridge' bowing is indicated by a simple graphic symbol, while the range indicator and 'x' note heads used in the improvisational 'Spider' artic help shape the players' random performances.
The so‑called 'Spiders' articulation features each musician in the 60‑piece ensemble playing freely within a two‑octave range in a random and unsynchronised manner, creating a collective dense cloud of activity.
Soniccouture's Dan Powell explains the inspiration behind the articulations: "I began by going through a lot of my favourite 20th‑century string pieces and collecting techniques I could perhaps imitate and then score for the entire orchestra. Composers like Penderecki (of course), Ligeti, George Crumb, etc. I took my rough score to Felipe (Téllez), who tidied it up and corrected my copious errors. Felipe also liaised with the conductor so that everyone had a good understanding of the kind of sounds we were aiming at recording."
Asked about the scores, Powell says: "We didn't always stay true to the original score notation. This is another area where Felipe's experience helped, finding the best way to convey the musical effect we wanted to the players. For example, in Penderecki's original Threnody, clusters are written as big black lines that change thickness. It looks cool, but is a bit vague. We scored more precisely, providing the musicians with the highest and lowest pitch for each cluster, strict tempo markings, etc."
The scores also take into account the all‑important click track: 'Four clicks free' indicates a four‑beat count‑in before the part starts, while a bar's rest separates one performance from the next, an essential precaution when editing thousands of samples. In the wider world of sampling, click‑based recording ensures that crescendos and octave runs can synchronise and finish at the same time, not always the case in the days before 'the click' ruled the Earth!
Pros
An adventurous collection of atmospheric avant‑garde string articulations.
Styles range from subtle tension‑builders to demented horror soundscapes.
Played by a powerful 60‑piece contemporary string ensemble.
Also contains sound design presets, a powerful X‑Y mixing pad, a cluster generator and a trio of generative tools.
Cons
Not much good for scoring a tender love scene.
Summary
Threnody explores the dark side of orchestral strings with an imaginative selection of nervy avant‑garde articulations. Performed by 60 string players recorded in a Budapest scoring stage from three mic positions, the library's myriad creative features include a programmable four‑way artic mixer, a cluster generator and several entertaining and inspirational generative tools. File under 'Sci‑fi and Horror'.