USB Audio & MIDI Interface
Steinberg's UR range is a proven studio stalwart. We take a look at the newest addition to the family.
Steinberg claim that their UR series is "considered by many to be the benchmark USB audio interface range". I can think of one or two other manufacturers who might contest that statement, but the UR interfaces are undoubtedly popular and cost-effective. In part that's because there's a model to cater for almost every need, from bus-powered mixing on the road to full band recordings.
The original UR interfaces have been on the market for nearly eight years, and have now been joined by four new models bearing the 'C' suffix. The key difference, apart from a visual facelift, is that these provide a USB Type C port for connecting to the computer, rather than the older Type B. This port is labelled USB 3.0, which is a little confusing, because the Type C port is specific to USB 3.1 and 3.2. What it signifies is that as well as being a conventional, forwards-compatible USB 2 High Speed device, a UR-C interface can also be switched to use the SuperSpeed mode defined in the USB 3 spec.
For review, we were sent the flagship of the UR-C range, the UR816C. With eight analogue inputs, all featuring Yamaha's D‑PRE preamp design, this provides a broadly similar collection of features to the original UR824, which was reviewed in SOS back in July 2012. Compared with that unit, the UR816C has lost a pair of optical digital ports, but gained an additional pair of master line outputs.
Steinberg's makeover has delivered a good-looking interface, which is housed in a smart, compact and surprisingly heavy metal case. Optional rack ears are provided, as is a laptop-style 'line lump' 16V power supply. As is the norm on products of this type, its eight analogue inputs are all on Neutrik Combo connectors that can accommodate XLRs or quarter-inch jacks. On inputs 1/2 the jacks are unbalanced high-impedance sockets for connecting guitars, while inputs 3-8 are mic/line affairs. Metering is limited to a single signal present/clip LED adjacent to each gain control. Unusually, the first four inputs are on the front and the others on the rear, and phantom power is switched in two blocks of four inputs. On the output side, a main output pair on quarter-inch jacks is joined by four additional pairs of jack sockets and two front-panel headphone outputs.
Digital audio I/O comprises a single optical In and Out port, which can provide either stereo S/PDIF or up to eight channels of input and output using the ADAT protocol. There are also BNC connectors for word-clock I/O, and five-pin DIN sockets for MIDI In and Out.
Like all of the UR-series interfaces, the UR816C uses not only a custom driver but also a bespoke USB controller developed by Yamaha and Steinberg. This incorporates a DSP mixer, which can be used to set up low-latency monitor mixes, process inputs using a channel strip plug‑in or a small range of guitar amp emulations, and send things to the global Rev-X reverb. All of this DSP can be controlled directly from within Steinberg's Cubase, which greatly simplifies setting up cue mixing and so on during complex sessions. The interface ships both with a cut-down AI version of Cubase and with the Cubasis LE iPad recording app.
Users of other DAWs will need to work in Steinberg's DspMixFX utility. This has been covered at length in previous SOS reviews, notably that of the AXR4 Thunderbolt interface in July 2019, so I won't describe it in detail here. Suffice to say that I think it strikes a pretty good balance between ease of use and versatility; it's neither as basic as the mixer you get with Arturia's AudioFuse 8Pre nor as complex as those provided by RME or MOTU. One difference as compared with the AXR4 is that there are no software gain controls: the UR816C has old-school analogue potentiometers.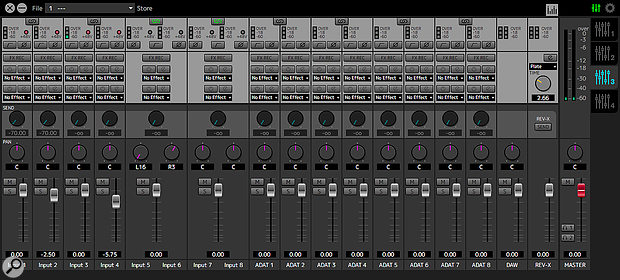 The DspMixFX window is familiar from many other Steinberg interfaces, and presents a comprehensive yet easy-to-use low-latency mixer with built-in reverb.
DspMixFX provides four mixer pages, each of which can draw on all the available inputs and one pair of DAW returns: Mixer 1 always receives DAW outs 1/2, Mixer 2 DAW outs 3/4 and so on. By default, these mixers are assigned to the four pairs of line outputs, with the main outputs also receiving Mixer 1, but this arrangement can be altered, and the line outputs can also be made to pick up DAW returns directly instead of mixer outputs. As on the AXR4, though, the headphone sockets can't be addressed directly from software. Instead, they have to be fed from one of the mixers, with the unwelcome consequence that they are governed by that mixer's output fader as well as their own volume controls. Other irritations are minor, but some might bemoan the fact that you can't rename channels, the unhelpful behaviour of the pan controls when you link and unlink channels and the very basic metering, which comprises just three virtual LEDs at the top rather than a full-length meter adjacent to the fader.
The front-panel volume control is hard-wired to the main output and, optionally, can also adjust the master fader level on any or all of the four mixers, so in theory you could use it as a rough and ready surround monitor control. There are also front-panel mute and dim buttons that can be assigned to any outputs, but there's no speaker switching, mono or talkback.
DspMixFX provides a drop-down menu where you can choose whether the optical I/O should operate in ADAT or S/PDIF mode but, oddly, the option to select an external clock source is found in Mac OS's Audio MIDI Setup utility. Also absent from DspMixFX is the option to switch between USB 2 and USB 3 SuperSpeed operation: to do this, you need to open a separate utility.
The UR816C is not a ground-breaking product in the way that the UR824 was, but it encapsulates that unit's strengths in a tried and tested format.
Most interfaces with Type C ports still use the USB 2 High Speed connection mode. For compatibility with older systems, the UR816C can do so too, but its ability to be switched into USB 3 SuperSpeed mode is quite unusual. Whilst I admire Yamaha and Steinberg for moving with the times, though, I have to say that the practical advantages of this are unclear. The manual explicitly states that "performance values such as latency will not change", and given that UR-series interfaces can't be daisy-chained or used in multiples over USB, it's not clear how the additional data bandwidth of SuperSpeed mode can usefully be exploited. In fact Steinberg don't even supply a Type C-to-Type C cable that would allow you to make use of this mode.
Round-trip latency on my Mac measured 6.2ms at the smallest 32-sample buffer size and a 44.1kHz sample rate, which is slightly better than Apple's built-in Core Audio driver. No longer having a Windows test machine, I wasn't able to see whether the UR816C offers improved low-latency performance on that platform compared with the original UR interfaces.
When it comes to audio performance, the UR816C is surprisingly similar to the eight-year-old UR824. The D‑PRE preamp circuit, with its impressive 70dB gain range, is still very good by today's standards, so I can't imagine anyone will complain that it's still current. Dynamic range, meanwhile, is up 1dB to 106dB on the inputs, but actually falls to 112dB on the main outs and 111dB on the line outs, while THD+Noise measurements are also slightly inferior.
In practice, these figures are still good in absolute terms, and far more than adequate for any conceivable project-studio recording. But Steinberg's competitors have not been idle in the years since the UR824 was launched. The PreSonus Studio 1824C and the Focusrite Scarlett 18i20 third-generation model, for example, are not only significantly cheaper, but have better metering, and match or exceed the UR816C on many specs. The Scarlett has the additional advantage of a built-in PSU, talkback and speaker switching, and a second pair of optical ports permitting eight-channel ADAT operation at 96kHz; and while Yamaha's D‑PRE preamps may still have the edge over the Scarlett's, PreSonus's boast an impressive 80dB gain range. Those who value sound quality highly will also be tempted by Arturia's AudioFuse 8Pre. At around the same price as the UR816C, this lacks the second headphone output but has no peers when it comes to preamp quality and audio performance.
It's a measure of how much Steinberg and Yamaha got right with the original UR interfaces that they are still on the market eight years later, and hold up well against newer competitors. The flip side of that is that unless you can find a tangible benefit to USB 3 SuperSpeed operation, it's not immediately obvious what the UR816C offers that the UR824 didn't. That's not so much a criticism of the new unit, more an acknowledgement that the UR series was ahead of its time back in 2012. The new UR816C is not a ground-breaking product in the way that the UR824 was, but it encapsulates that unit's strengths in a tried and tested format.
Pros
A good-sounding, reliable, well-built USB audio interface.
Well-featured whilst remaining straightforward in use.
Tight integration with Cubase and Cubasis.
Supports USB 3 SuperSpeed operation.
Cons
Feature set and specs are matched by other interfaces that cost less, and offer little improvement over those of the older UR824.
It's not clear what practical advantages USB 3 support brings.
Basic metering and limited monitor control features.
Summary
Steinberg have updated their range of USB interfaces with a new look and USB 3 SuperSpeed support. They remain very capable interfaces, though they now face much stronger competition than the original UR series did.