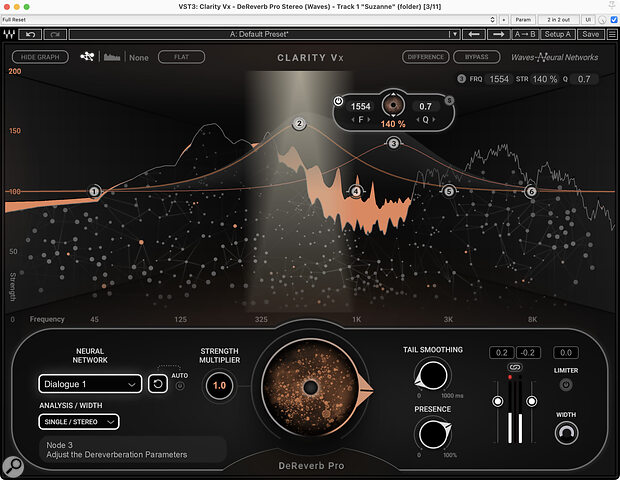 Waves Clarity vX DeReverb Pro
Ever wished you could control the level of room sound that's baked into a dialogue or vocal recording?
The latest developers to join the AI reverb‑removal revolution are Waves, with a pair of plug‑ins in their Clarity vX noise‑reduction range called DeReverb and DeReverb Pro. Both are available in the usual Mac/Windows plug‑in formats, bought through a Waves subscription or a perpetual licence, and authorised using iLok (no dongle required). They employ the same 'engine' but the standard version keeps the GUI and control side of things simpler and more beginner friendly, while Pro offers more visual feedback and many more tweakable parameters. Unlike other such tools I've used, they offer a choice of three neural networks, two trained to identify dialogue and the other to recognise sung vocal parts. That opens up some interesting applications, and hints at possible avenues for development (I'm waiting for such a plug‑in that successfully reduces reverb on other home‑recorded sources such as acoustic guitar...)
Operation of the 'standard' DeReverb couldn't be simpler. It defaults to the first dialogue algorithm, and operation can then be as simple as turning the main knob until the reverb is turned down to a workable level. If you just want to make a part more intelligible without losing the feel of the space, just a touch can be enough, but with more assertive removal you can often transform dialogue so it sounds much drier — think radio or ADR — before artefacts become annoying. When they do, dial things back a touch and you're usually good to go. A small frequency analyser on the right shows you where in the spectrum reverb is being detected/removed. Used like this on the same material, the results weren't identical to those I could obtain with one knob in DeRoom Pro's single‑band mode but, on the whole, equally impressive. The only dialogue to pose significant problems was either a poor‑quality recording or something with a very prominent first reflection (just as much a stumbling block for Waves' competitors).
The 'lite' version offers the same performance, but with fewer controls to refine the results — for a much lower price.
Digging deeper, there...
You are reading one of the locked Subscribers-only articles from our latest 5 issues.
You've read 30% of this article for free, so to continue reading...
✅ Log in - if you have a Subscription you bought from SOS.
Buy & Download this Single Article in PDF format

£1.00 GBP

$1.49 USD


For less than the price of a coffee, buy now and immediately download to your computer or smartphone.

Buy & Download the FULL ISSUE PDF
Our 'full SOS magazine' for smartphone/tablet/computer. More info...

RECORDING TECHNOLOGY: Basics & Beyond
Claim your FREE 170-page digital publication
from the makers of Sound On Sound — CLICK HERE