Secrets Of The Mix Engineers: Todd Hurtt
Todd Hurtt in Paramount Studio C, Los Angeles.
Polo G could have worked with any superstar mix engineer on the planet. Instead, he chose relative unknown Todd Hurtt to mix his hit album Hall Of Fame.
Hall Of Fame, the third album by Chicago rapper, singer and songwriter Polo G, features a long list of famous guest artists, including The Kid Laroi, Lil Durk, Lil Wayne, DaBaby, Nicki Minaj and Pop Smoke. However, although there are a few 'name' producers like Murda Beatz, Nick Mira and CashMoneyAP credited, the vast majority of the (co‑)production and (co‑)writing credits are by relative unknowns. One of them is Todd Hurtt, who mixed 18 of the 20 tracks on the album — including the main single 'Rapstar', which was for a while the world's number one song.
As a recording engineer and occasional producer, Hurtt has worked with the likes of Pharrell, J Cole, Snoop Dogg, Mary J Blige, Keyshia Cole, Skrillex and Miley Cyrus. He is also credited as engineer on Polo G's first two albums, but is hardly a big‑name mix engineer. So how did Hurtt come to mix one of the biggest songs, and albums, of 2021?
"I've worked with Polo for three years now," recalls Hurtt. "He was one of the first young rappers I saw after the mumble rap era from four years ago who was writing his lyrics on his phone. Most mumble rappers just come out with the first thing that pops into their heads, but Polo was actually composing his stuff. That really impressed me. I got drawn to him because he's a young man who really knows what he wants.
"We hit it off, and I've engineered pretty much all his vocal sessions for the last three years. He's headstrong in many ways. For example, it is always a struggle to find beats for him. He can go through 100 beats a night, and not pick any, because he's very particular. He writes songs, and then tries to fit them to the beats, and if a beat does not fit, he'll dismiss it. It doesn't matter whether it's made by a major producer or not.
"When Polo chooses a beat to work with, I'll have that beat on loop in the studio and he'll do his thing. Sometimes he does something off the top of his head, but he normally takes his time. When he writes a song, we may record just a verse and a chorus during the first session, and he then lives with it for a while. He'll drive around and will listen to my rough mix. He'll sit with this and new ideas will come to him, which we record at a later session.
"Because he can spend weeks listening to a demo, he can get attached to the way the beat sounds. You could call it demoitis. Sometimes the beat is just a loop; otherwise I'll try to create a song structure, by creating drops and transitions. I can do that by EQ'ing out the bass on the two‑track, or using other effects, or when I have the stems by taking things in and out. But I often have to pull that back. He does not like many drops or transitions.
"Polo keeps a tight circle of the people he likes to work with, and once again, whether someone is a big name or not doesn't mean much to him. He doesn't pay attention to those things. It either sounds good to him, or it doesn't. And he tends to like what we did together. So often in the past when tracks were sent out to mix and came back, he'd say, 'You know what? I like Todd's mixes better than this new mix.' That's how I got tasked with mixing this whole album."
Like many releases in 2021, Hall Of Fame was recorded under the shadow of the Covid crisis. "Since 2016, I usually work at Paramount Recording — most often Studio X, which is in the parking lot, a little separate from all the other studios," explains Hurtt. "Polo loves Studio X, so we've often recorded there from the moment we started working together. He's a fan of the studio's Augspurger monitors, because he loves to listen loud!
Most of Polo G's Hall Of Fame album was recorded in Paramount Studio X.
"Most of Hall Of Fame was recorded at Paramount Studio X, usually just Polo and I. Sometimes his current A&R is there, sometimes his little brother. Because of Covid, we had far more time to work together. We kept working throughout most of 2020, and ended up with more songs than before. Polo also went to Miami to work with Pharrell, and went to New York to record with Pop Smoke before he passed away.
"Our primary vocal chain is a Sony C800G, going into a Neve 1073, and then a Tube‑Tech CL‑1B or an LA‑2A. He sounds really good with the C800, and I also like the LA‑2A on him. That's my chain, and everything else is in the box. Many rappers there days like to record in the control room, but I'm not a fan of that. I prefer the rapper or singer in the booth, and luckily, Polo actually likes this. He enjoys the sense of privacy that the booth gives him. He can be on his own with his thoughts and creative process in there. So thankfully, I get to record very clean‑sounding vocals!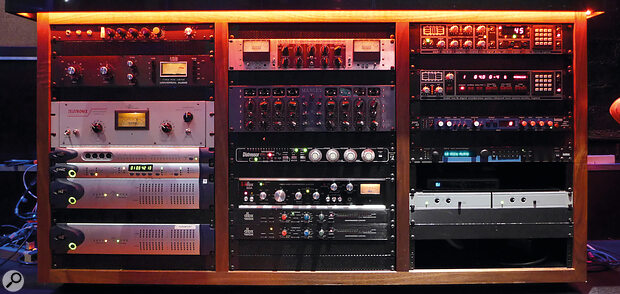 Todd Hurtt's standard vocal chain for Polo G includes a Teletronix LA‑2A compressor (left, centre).
"Polo is in the booth with headphones, and if there are people in the control room, I'll have headphones on as well, and we work things out between us. He'll trust me to give him feedback, as in 'I think you can do a better take,'...
You are reading one of the locked Subscriber-only articles from our latest 5 issues.
You've read 30% of this article for free, so to continue reading...
Buy & Download this Single Article in PDF format

£1.00 GBP

$1.49 USD


For less than the price of a coffee, buy now and immediately download to your computer or smartphone.

Buy & Download the Full Issue PDF
Our 'full SOS magazine' for smartphone/tablet/computer. More info...

RECORDING TECHNOLOGY: Basics & Beyond
Claim your FREE 170-page digital publication
from the makers of Sound On Sound — CLICK HERE