PreSonus Studio One Tips & Techniques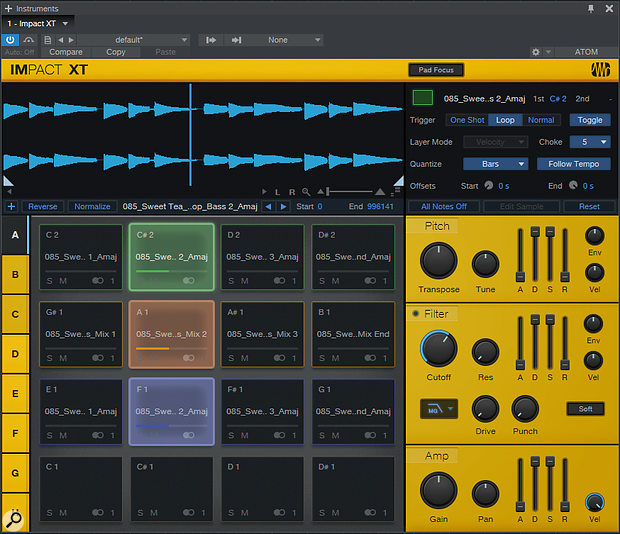 Most of the important controls for working with loops appear in the top right of the Impact XT panel. It's possible to change these settings for multiple pads simultaneously.
Impact XT isn't only a drum sampler: used with loops, it makes a powerful live performance tool.
While reviewing PreSonus' Atom controller recently, I spent some time digging deeper into the less obvious functions of the Impact XT sampler. One area I hadn't previously explored so much was using loops rather than hits or kits. The combination of Atom and Impact XT lends itself very fluidly to playing drum samples and recording them into patterns, but it turns out that once you start playing with loops, Impact XT enjoys a whole new relationship with your hardware controller. And you don't need to be an Atom user to appreciate this — it will work with any pad controller, keyboard, or even just the mouse.
Through a bit of manipulation of the quantise and choke functions, you can build a loop arranger, clip launcher, or whatever it is you call the system that lets you fire off loops and clips in an Ableton Live style. You can stack loops up or layer them across the pads, set up banks for verses and others for choruses, and lay out an entire song like you're using a rather cramped, 4x4 Push 2. And then you start to discover that Studio One and Impact XT have unexpected potential as a live performance tool.
If you don't have something prepared and you'd like to try this out, dig into the Studio One Loops section of the browser and pull in a bunch of related loops from your favourite genre. You've got a 4x4 grid in the first bank of pads, so I decided to drop four bass loops across the top, four drum loops across the next...
You are reading one of the locked Subscriber-only articles from our latest 5 issues.
You've read 20% of this article for free, so to continue reading...
Option 1: Buy and download this single SOS article in Adobe PDF format
For less than the price of a coffee shop drink, buy this article now and immediately download the PDF file to your computer or smartphone.
Single article PDFs look identical to the printed magazine layouts (but exclude advertisements).
Note: Some shorter articles don't always have a PDF version.
Option 2: Buy a great value DIGITAL subscription (or Print+Digital) and open ALL web articles & Full Issue PDFs instantly!
It opens ALL premium web articles, plus our Tablet edition App, and now includes your monthly FREE Full Issue PDF download (worth

£3.99

$5.99

each).
Or contact our Subs staff to discuss an upgrade price to add Digital access to your existing Print subscription.
Option 3: Buy & Download TODAY the Full Issue PDF
From January 2018 edition, we began selling a FULL ISSUE PDF 'replica magazine' for the cost of a handful of single PDF articles. More info...
Try these FREE sample FULL ISSUE PDFs on us!