Our Experts Rework Your Tracks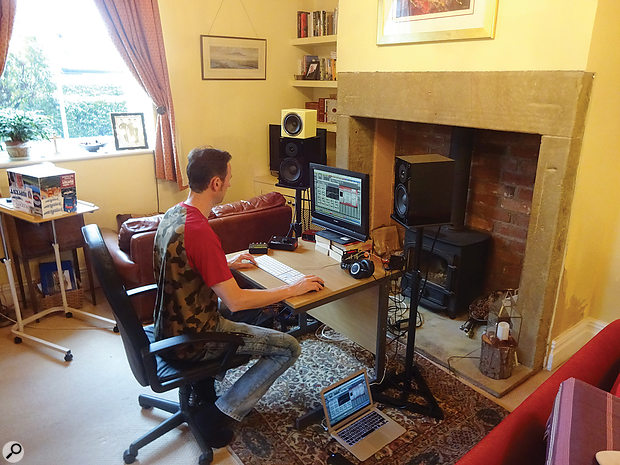 This month's Mix Rescue project took place in SOS reader Isaac Ellis's living room, using his no-frills laptop Pro Tools setup and its bundled plug-ins. The speakers you can see are NHT's budget-friendly SuperOne 2.1 nearfields and an Avantone MixCube.
Our engineer visits a reader's home studio to help improve his mixes, and shows that you can get great results from even the modest of monitors.
In an ideal world, we'd all have purpose-built mixing studios with impeccable acoustic design, top-flight monitoring hardware, and every plug-in under the sun. The reality, of course, is that many small-studio operators find themselves strapped for cash, making the best of domestic rooms, budget monitors and the plug-ins bundled with their DAW software. Fortunately, it's still possible to get decent work done under such circumstances, as long as you're ready to do a bit of extra legwork. And to illustrate this point, I'd like to talk about a mix I recently did with SOS reader Isaac Ellis, using a no-frills version of Avid Pro Tools.
The software was running on a laptop, which meant there wasn't masses of processing power to spare, so it was fortunate that the session wasn't too track-heavy: there were just six drum mics, bass, three guitars (two rhythm parts and a solo), five synth tracks, a lead vocal, and two double-tracked backing harmonies. Also in our favour was that Isaac had already comped and tidied up the multitracks very capably, which meant I could focus 100 percent on the sonics — something of a rarity amongst the 60-odd projects I've tackled for Mix Rescue!
Normally I work in my own mix room, but in this case I'd agreed to visit Isaac's house, so there was a certain amount of setup work to do on that front. First off, I had a listen to the monitoring system in Isaac's normal 3 x 4 metre work room, which comprised a pair of M‑Audio BX8 active monitors. These are two-way active designs with an eight-inch woofer, and were mounted on tubular steel stands, from which vantage point they certainly delivered plenty of level and capacious bass. But as appealing as those qualities are for general playback, they aren't actually that important for critical mixing tasks. Much more crucial are well-controlled time-domain response and smooth low-end presentation — attributes which these particular monitors had unfortunately sacrificed, as many cheaper ported monitors do, by over-hyping their low-frequency resonance characteristics in pursuit of maximum bass power.
Anticipating that this might be a concern, I'd taken the precaution of bringing a small pair of NHT SuperOne nearfields with me that I knew would be far more suitable. At only $350 a pair, they're nothing fancy (and certainly not the most pleasant or detailed listen!) but their closed-box design makes it far easier for me to make reliable decisions about the most important aspect of any mix: namely, the balance. They're passive designs, but I was able to borrow an old 40W Technics hi-fi amplifier to drive them and that worked out fine.
Once the NHTs were substituted for the BX8s, I had another listen through to my regular stock of reference material. While the new speakers certainly sounded more controlled and provided a much more believable low-frequency impression, the room itself wasn't doing the monitoring situation any favours; its modal resonances were playing havoc with the frequency response from one listening position to the next. Now, I know from long experience that it's possible to work around this kind of thing to an extent, by mentally 'averaging' the sound from different locations in the room. However, this also makes the mixing process harder work, and can be pretty time-consuming too, so Isaac and I decided that it was worth moving the DAW and the monitoring system into the adjacent living room instead, a larger well-furnished space with much more benign resonance characteristics.
Even in that room, we were going to have to be proactive in pre-empting mix problems resulting from our monitoring situation's remaining unavoidable weaknesses. To this end, I immediately set up my Avantone MixCube single-driver mid-range monitor on top of one of the nearfields. Because this is effectively a point-source sound generator, it suffers from none of the phase interactions that can occur between stereo speakers, or between individual speaker drivers around their crossover frequency, so the timbres of instruments remain more consistent as you move listening position. Room reflections don't undermine the solidity of phantom images on a mono speaker system either (because there aren't any phantom images!), which helps with balance judgements. Plus, the speaker's...
You are reading one of the locked Subscriber-only articles from our latest 5 issues.
You've read 20% of this article for free, so to continue reading...
Buy & Download this Single Article in PDF format

£1.00 GBP

$1.49 USD


For less than the price of a coffee, buy now and immediately download to your computer or smartphone.

Buy & Download the Full Issue PDF
Our 'full SOS magazine' for smartphone/tablet/computer. More info...

Published February 2020