Avid Pro Tools Tips & Techniques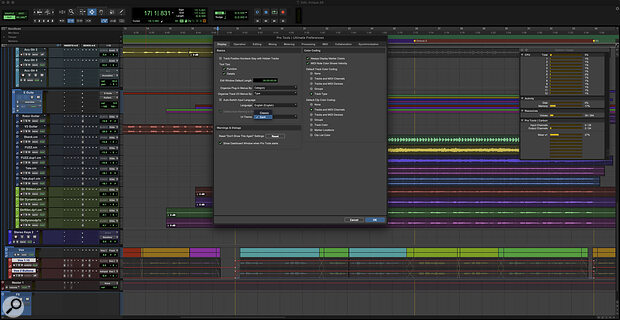 The new Dark UI Theme in v2020.11.
Melodyne Essential now comes bundled with Pro Tools 2020.11, so let's explore what it offers.
After what seemed like a long period of what I'd describe as 'tweaks' from Avid, November 2020 was a month of satisfyingly significant developments. There was of course the release of Pro Tools | Carbon, Avid's first piece of in‑house audio hardware for roughly a decade and a return to a type of product many believed Avid were no longer active in. Carbon has been covered in some detail in these pages by Sam Inglis and I won't add anything, apart from to say that I have spent a significant amount of time with Carbon and I give it my wholehearted approval.
Coinciding with the release of Carbon was an update of Pro Tools to version 2020.11, and a few days later the release of a new version of EuCon.
The most attention‑grabbing feature of Pro Tools 2020.11 was the Dark UI Theme. There is no denying that the dark grey re‑skin of Pro Tools is striking and looks thoroughly modern. Whether or not you get on with it is very much a matter of personal preference; I found it disorientating and switched it to the old, light‑grey Classic Theme almost immediately, though I have retuned to Dark mode since. To switch from the default Dark Theme, go to Preferences and you'll find the new Theme option. Disappointingly, changing it requires restarting Pro Tools.
I'm sure many users will prefer the Dark Theme for aesthetic reasons but there is a group of users who will value it for practical reasons. People working in Post Production spend a large amount of time on dark dubbing stages, and for them this Dark UI is a godsend. For the rest of us it makes Pro Tools look like Logic or Studio One, and whether or not you think that's a good thing is entirely personal.
As for the other new features in Pro...
You are reading one of the locked Subscriber-only articles from our latest 5 issues.
You've read 20% of this article for free, so to continue reading...
Buy & Download this Single Article in PDF format

£1.00 GBP

$1.49 USD


For less than the price of a coffee, buy now and immediately download to your computer or smartphone.

Buy & Download the Full Issue PDF
Our 'full SOS magazine' for smartphone/tablet/computer. More info...