Avid Pro Tools Tips & Techniques
We explore the new bounce options in 2020.11 and reveal their benefits.
Pro Tools 2020.11 and the release of Pro Tools | Carbon brought some exciting new features to Pro Tools. The production possibilities of Audio to MIDI, the highly visual changes of Dark Mode and some rare new hardware grabbed the headlines (and were covered in March 2021's Pro Tools workshop). Other new features are perhaps not as exciting, but have the potential to really make a difference to working professionals. A great example is the Bounce Mix window.
Formerly known as Bounce to Disk, the new Bounce Mix window may underwhelm some music users as its benefits might not immediately be apparent. As is often the case, many of the new features have been driven by the needs of post‑production users. How much a music user can benefit from the Bounce Mix window might well be a reflection of how 'post‑like' your working methods are.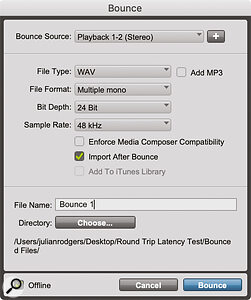 The old Bounce to Disk window (light).The question is to what extent your working practices are based around the use of mixing templates, standardised session layouts, collaboration with others and the production of multiple versions and deliverables. If you tend to build sessions as you go on a per‑session basis and your deliverables are limited to bouncing a stereo version of your mix, then the Bounce to Disk window probably met your needs already. The new features address the need to be able to create specific deliverables quickly and consistently.
The need for different versions in post is a big subject and beyond the scope of this article, but the important point about that way of working is that there are well‑established conventions in post‑production that...
You are reading one of the locked Subscriber-only articles from our latest 5 issues.
You've read 20% of this article for free, so to continue reading...
Buy & Download this Single Article in PDF format

£1.00 GBP

$1.49 USD


For less than the price of a coffee, buy now and immediately download to your computer or smartphone.

Buy & Download the Full Issue PDF
Our 'full SOS magazine' for smartphone/tablet/computer. More info...