iD MkII range announced, plus new recording bundle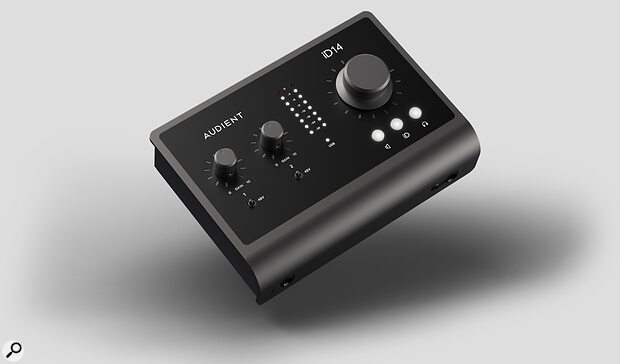 British mixer, preamp and interface makers Audient have rung in the new year with a major overhaul of their popular iD series, as well as a new recording bundle based around their app-controllable 'smart' EVO 4 interface.
The MkII versions of the iD4 and iD14 benefit from significantly improved dynamic range on both their input and output converters, which now boast an A-weighted dynamic range of 120dB for the A-D converters, and 126dB for the D-A. And while previously only the iD4 could be bus-powered, the MkII iD14 also gains PSU-free operation, thanks to its move to the USB 3.0 protocol (connection is via USB‑C). That model also gains a second headphone output compared to the MkI version, as well as an extra pair of line outputs, meaning you can incorporate analogue processing in your mix, or connect a secondary pair of studio monitors.
The iD MkII interfaces have also been given a facelift, and sport a gun-metal finish — but best of all is that their price remains unchanged since the originals. The iD4 MkII will sell for £138 in the UK, while the iD14 MkII carries a price of £199.99.
Audient's new EVO Start Recording Bundle, meanwhile, comprises an EVO 4 interface, an Audient SR1 large-diaphragm microphone and shockmount, and a pair of Audient SR2000 closed-back headphones. The kit even includes all the cables you need to hook it all up, and is modestly priced at just £199.
Audient EVO Start Recording Bundle.
Finally, Audient have also given their website and social media pages a major overhaul. Click the link below to check it out.
https://audient.com/