DAW gains spectral processing tools
Bitwig have announced the release of the first add-on product for Bitwig Studio in the form of the Spectral Suite. The release includes four audio effects devices that offer users of the DAW software a new level of mixing and sound design functionality, and also comes with a sound package that includes over 100 presets and clips to demonstrate their capability.
Devices
Spectral Suite offers four new devices, each of which focus on a different musical element: loudness, transients, harmonics and frequency. Incoming signals are split into hundreds of frequency bands for analysis, and Bitwig then organises related signals into 'channels' which can then be mixed as normal, with users able to adjust volume and panning, or insert further devices or VST/CLAP plug-ins.
Loud Split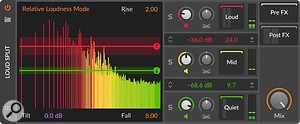 Loud Split separates elements within a sound depending on their loudness. Users can then instantly transform a sound by increasing the level of its softest part, or use the tool let a thin section of the sound ring out without negatively impacting a tracks overall mix.
Transient Split 
Transient Split divides percussive transients from tonal sounds. Suggested uses here include stuttering only the drum hits in a full music loop, or separating instruments from percussion to allow for more versatility at the mixing stage.
Harmonic Split 
Harmonic Split separates harmonics into two groups, and collects non-harmonic content into a third channel. This makes it possible to change the balance between elements, or even apply separate effects or processing to the odd, even and non-harmonic parts of a signal.
Freq Split 
Freq Split distributes a sound across four channels, like a set of filter banks. Lots of possibilities are on offer, such a setting random delay times and panning on each channel to produce a spectral delay effect, or using Bitwig's modulators to shuffle through different effects on each channel.
Sound Package
Spectral Suite also includes Outer Spectra, an accompanying sound package that contains over 70 audio FX presets for the new devices, which can be loaded as audio FX or, in some cases, as synths with spectral devices loaded in the FX slots.
The package also includes 75 clips and 57 audio files that cover a broad range of musical styles, from heavy techno to live instrumental loops, basslines, pads and beats. Users are able to load the presets with their corresponding clips to get a sense of what Bitwig's spectral devices are capable of, with examples of both sound design and mixing tasks, such as widening the stereo field or reducing reverb.
Pricing & Availability
Spectral Suite is available now from the Bitwig website, and is currently available for an introductory price of $79€79, or as a bundle with Bitwig Studio for $479€479. After 23 October 2022, Spectral Suite's cost will rise to $99€99, and the Bitwig Studio + Spectral Suite bundle will increase to $498€498.
Users of Bitwig Studio v4.3.9 and higher are can try Spectral Suite by downloading the Spectral Suite Demo Project, which can be found on the product page on Bitwig's website.
https://www.bitwig.com/spectral-suite/