Upgraded 40-channel audio interface with direct-to-USB recording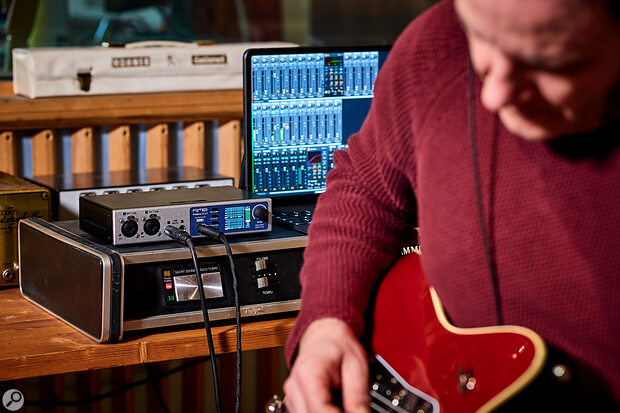 German audio interface and converter manufacturers RME today celebrate their 25th anniversary, and they're marking the occasion by releasing an upgraded version of their popular UCX compact interface. The UCX II retains the original's half-rack form factor, and sports the same I/O configuration, but boasts a new higher-resolution display, superior clocking technology, standalone recording, and DC-coupled analogue outputs for use with modular synth setups.
The Direct USB Recording function is borrowed from RME's premium UFX range, and lets you record all of the interface's inputs, via the UCX II's TotalMix FX DSP mixer, to an attached USB drive. (When not in use, you can use the USB A-type port to connect an RME ARC monitor controller instead.)
The SteadyClock FS internal clock, meanwhile, is inherited from RME's ADI-2 series of mastering-quality converters, and sports the company's proprietary jitter suppression and filtering reduction technology.
Also new to the UCX II is the ability to control its internal mixer via WiFi, using either a desktop (Apple or Windows) or mobile (Android/iOS) device. And, finally, the UCX II will ship with RME's DigiCheck Analyzer suite of audio analysis plug-ins, designed to help ensure the integrity of your digital audio connections.
The RME UCX II will go on sale from July, and carries an RRP of £1149 including VAT. More info from UK distributor Synthax Audio UK.
www.synthax.co.uk/rme/firewire-usb/rme-fireface-ucx-ii
https://www.rme-audio.de/fireface-ucx-ii.html