New version of softsynth packed with new features
Press Release: Almost a decade ago, the original version of Rob Papen's Predator virtual synth was released to widespread acclaim. Over the years, the virtual synth has inspired numerous top producers like Junkie XL, Armin van Buuren, Noisia and Teddy Riley to name a few and has featured on a variety of artist albums and soundtracks.
Now, the legacy continues with Predator 2 which features an awesome selection of new functionality and controls while staying true to the underlying concept of being fun and easy to use. And, in typical Rob Papen style, there's thousands of presets in a huge variety of styles.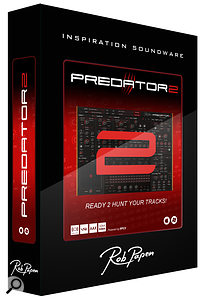 Features include:
Easy Page for quick editing of main synth parameters to speed up workflow
XY Pad for visual manipulation and dynamic modulation with full MIDI control
Improved Preset Manager screen allows you to easily find and organise presets and banks
Improved unison mode - have up to 6 unison sub-voices for each full voice, allowing unison to work in all play modes
Increased envelopes & LFOs (up from 2 to 4)
Increased number of modulation steps (from 8 to 20), with advanced modulation mode allowing you to step limits & upper / lower amounts
User Waves section which allows waveform drawing
Oscillator enhancements including waveform mixing/morphing
Complex modulation options with new advanced mode
EQ mixing section powered by award-winning RP-EQ effects plug-in
Voice level distortion
Additional HP filter for extra sound shaping
Dual 16-step arpeggiators which can be combined
Enhanced reverb algorithm taken from RP-Verb
Over 5000 presets
Predator 2 is available to buy now with an upgrade option for existing users. Anyone who purchased Predator between 1st March and 5th May 2016 is eligible to upgrade for free! Full details here.
The release of Predator 2 also brings a new version of eXplorer — the complete collection of 15 Rob Papen virtual synths and effects which saves over 50% compared to individual purchases. If you already own one or more Rob Papen titles you can buy eXplorer 4 for even less.
If you bought, or upgraded to, eXplorer 3 between 1st July and 25th November 2016, you can upgrade to eXplorer 4 for free! View all eXplorer 4 upgrade and crossgrade options here.
http://www.timespace.com/product/PRED2-120/3/9999916/rob_papen_predator_2_%28dow…