Headphone Correction & Virtual Studio Software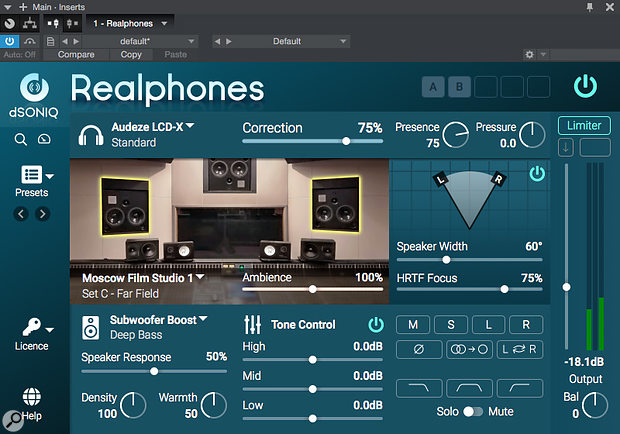 Realphones aims to put all the software tools you need for perfect headphone monitoring in one neat package.
There are now many 'room correction' systems, which will measure the acoustics of your control room and attempt to flatten them out in software. The same principles can be applied to headphone monitoring — arguably, with fewer compromises — but there seems to be much less choice. Sonarworks' Reference system has thus cornered a large part of the market for headphone correction, and Toneboosters' Morphit was the only alternative I knew of. Now, there's a third contender...
Realphones, from Russian developers dSONIQ, closely resembles Sonarworks Reference in many ways, but there's one key difference. Whereas Reference is designed to work equally well with headphones and loudspeaker-based monitoring systems, Realphones is targeted purely at the former. But, unlike Reference, it doesn't just correct for the deficiencies of your headphones: it includes optional binaural processing that attempts to recreate the experience of listening on loudspeakers in a control room. So you could think of Realphones as combining the functionality of Reference with that of Waves' Nx (albeit without the head-tracking), or the old Focusrite VRM Box.
I'm not sure whether Sonarworks will feel more flattered or alarmed by the similarities between Reference and Realphones, but these similarities are too obvious to go unnoticed. Like Reference, Realphones is available both as a plug‑in (in VST, AAX and Mac AU versions) and as a 'system-wide' utility. This latter interposes itself between your operating system and audio interface, so it looks to music software like a stereo output device, and is certainly the easiest solution if you never need to switch to loudspeakers. With the plug‑in version, of course, you need to take care to avoid inadvertently bouncing mixes through Realphones.
There's no Sonarworks-style visual indication of what EQ curve is being applied to your headphones but, to compensate, Realphones does have one or two nice features that aren't available in Reference. The system-wide utility has a built-in music player that could be used to house your mix references, and all versions boast a comprehensive set of mix checking tools. As well as the expected mono button, these include the option to audition only the Sides signal, separate left and right channel mutes, channel swapping, right-channel polarity flipping and a three-band DJ-style...
You are reading one of the locked Subscriber-only articles from our latest 5 issues.
You've read 20% of this article for free, so to continue reading...
Buy & Download this Single Article in PDF format

£1.00 GBP

$1.49 USD


For less than the price of a coffee, buy now and immediately download to your computer or smartphone.

Buy & Download the Full Issue PDF
Our 'full SOS magazine' for smartphone/tablet/computer. More info...