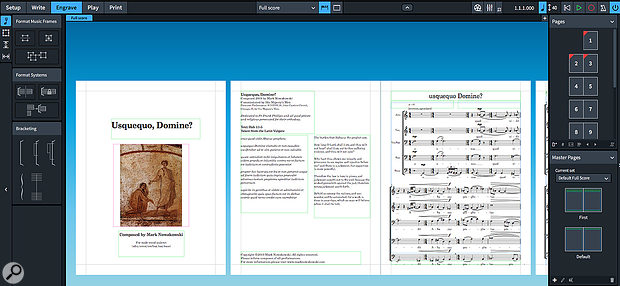 Dorico's frame-based editing makes preparing scores for engraving easier.
Steinberg's innovative notation package reaches version 3 — and maturity?
Steinberg have released the third major iteration of their Dorico scoring package, packing powerful new features and a number of important bug-fixes into a comprehensive update that is sure to tempt long-time users of rival software. The new headline features include fast and accurate score condensing, comprehensive guitar notation, harp pedalling, a new harmonics tool, numerous new notation features big and small, and further additions to the Play Mode piano-roll editor.
The story behind Dorico is a long one, which began when the Sibelius scoring software was ported from its original RISC OS iteration to Windows. Developed by a small team in Cambridge, UK, Sibelius soon established itself as a serious alternative to the nearly-ubiquitous Finale, and the ongoing competition between the two software packages spurred both to new heights. In 2006, Avid purchased Sibelius for $23 million, leaving many users worried that their beloved notation software would cease to be a priority. After a time of relative quiet, concern was reignited when Avid closed their London office in 2012 and laid off most of the Sibelius development team.
Then, in 2013, came the surprising announcement that the former Sibelius team had been hired by Steinberg. Perhaps sensing an opportunity to shake up the notation software world, Steinberg gave the team carte blanche to reinvent notation software from the ground up. Eventually released on October 19, 2016, the new software package was named Dorico after the pioneering 16th Century Italian music engraver. It featured an interface that was described by SOS reviewer Mary Wherry as "unapologetically modal", with the tasks of setup, writing, playback, engraving and printing organised under different tabs that could be addressed independently of each other.
Another key selling feature was that not only did Dorico borrow the audio engine from Steinberg's Cubase, but MIDI playback of a score could be modified independently of notation using a piano-roll editor. Though initially limited, this feature — termed Play Mode — seemed poised to bridge the gap between notation software and DAW environments. Users also appreciated the software's neat appearance, clear dedication to providing more screen real estate, and the ability to place multiple scores (such as in a multi-movement work) into a single file as 'flows', even if the movements within a flow had variations in instrumentation. Instrument changes became easier than ever because of the setup view, and even the final graphic design and cover pages of scores — which looked fantastic, by the way — were made easier with Dorico's frame organisation.
Also welcome was Dorico's friendliness with virtual instruments, buoyed by the inclusion of Cubase's Expression Maps protocol. This allowed composers who wanted to include the sound of their favorite obscure virtual instrument to define this instrument in Dorico so, for instance, key-switches such as arco to pizzicato could be attached to music notation text. Many popular virtual instruments already had Expression Maps available freely online, further sweetening the deal.
Finally, at least for my money, Dorico's 'popover' feature became a major time-saver. To give a brief example, a composer who wanted a gradual crescendo from piano to forte and then a diminuendo back to piano over four bars could quickly highlight those four bars, type Shift+D to bring up the Dynamic popover, type 'p < f > p' and be done with it.
The first version of Dorico presented a new way of thinking about music notation on a computer, and an architecture...
You are reading one of the locked Subscriber-only articles from our latest 5 issues.
You've read 20% of this article for free, so to continue reading...
Buy & Download this single article in PDF format

£1.00 GBP

$1.49 USD


For less than the price of a coffee, buy now and immediately download to your computer or smartphone.

Buy & Download the Full Issue PDF
Our 'replica SOS magazine' for smartphone/tablet/desktop. More info...

Published February 2020