Spectral Editing Software
Steinberg continue to develop SpectraLayers at a remarkable pace.
It seems like almost no time since I reviewed SpectraLayers Pro 8 (well, the November 2021 issue to be precise) but Steinberg have kept up a pretty relentless rate of development since they acquired the software from Magix. These updates have added some impressive new processing capabilities to the software. However, Steinberg have also delivered some very significant improvements in workflow and it's here that I think they have been most shrewd; if the very obvious potential of spectral editing is going to become mainstream, then the mechanics of the sophisticated audio editing processes involved have to be much more accessible.
Each release under Steinberg has taken incremental steps forward in this regard. However, Steinberg clearly still have ambitions on this front and further workflow enhancements are the undoubted highlight of the SpectraLayers Pro 9 release. So, if you are a SpectraLayers user, should you keep up with the rapid pace of development? Let's find out...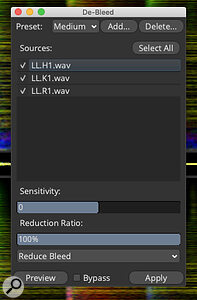 Like the dialogues for all processes, the revamped De‑Bleed process now offers real‑time previewing of settings changes.
In terms of workflow enhancement, the most significant development within v9 is that SpectraLayers now provides real‑time previewing of processes. Steinberg label this dynamic spectral processing and it means you can hear the results of your parameter changes as you make them within all the key spectral processing tools. So, for example, you can adjust the Reduction Ratio value while previewing a Reverb Reduction process, or change the Tolerance slider while previewing a Noise Reduction process. Real‑time audio processing is something we simply take for granted within our DAWs so it might be easy to think 'about time!' when seeing it within SpectraLayers. However, its arrival is a big deal and, for regular SpectraLayers users, this is going to represent a massive step forward in terms of speed of use for pretty much every task.
This change is further enhanced by two other operational improvements; what Steinberg term non‑modal process dialogues and the addition of presets for both processes and tools. The former simply means that while you have a process dialogue open, you can pause the preview, interact with other elements in the UI (for example, change the zoom on the spectral display) and then return to the open process to continue your preview. The latter means that you get a selection of starting points included with every process or tool and, of course, the option to save your own settings presets....
You are reading one of the locked Subscriber-only articles from our latest 5 issues.
You've read some of this article for free, so to continue reading...
Log in - if you have a Subscription you bought from SOS.

Buy & Download this Single Article in PDF format

£1.00 GBP

$1.49 USD


For less than the price of a coffee, buy now and immediately download to your computer or smartphone.

Buy & Download the Full Issue PDF
Our 'full SOS magazine' for smartphone/tablet/computer. More info...

RECORDING TECHNOLOGY: Basics & Beyond
Claim your FREE 170-page digital publication
from the makers of Sound On Sound — CLICK HERE