Secrets Of The Mix Engineers: Kevin McCloskey
Modern rap might be minimalist, but that doesn't mean it's easy to mix — especially when, as on DaBaby's Kirk album, the vocals were tracked in a hotel room.
"I really appreciate that after I mixed Jon's debut album, Baby On Baby, which was the first project he released on Interscope, he came back and asked me to mix his second album, Kirk. By this time he had the access and the money to use any of the more well-known mixers in the country, but he wanted to keep working with me. Jon and I got to work together because we're both from Charlotte, and I'm probably the go-to guy here for urban pop."
So says Kevin 'Black Pearl' McCloskey, and the Jon he refers to is Jonathan Lyndale Kirk, aka DaBaby, a rapper who broke through earlier this year with the single 'Suge' from Baby On Baby, which was released in March. Kirk was released just a few months later, in September of this year, and reached the top spot in the Billboard US chart. The two albums were preceded by 13 mixtapes, while DaBaby has eight non-album singles to his name, and featured appearances on another 22 singles. Clearly, DaBaby is nothing if not prolific. McCloskey, meanwhile, is an engineer and mixer who runs his own studio from Charlotte, North Carolina, called Black Pearl, and has worked with the likes of August 08 and Lexie Liu.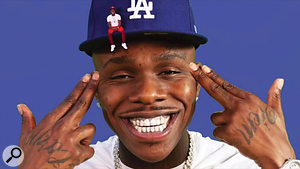 DaBaby achieved his meteoric success working mainly with local collaborators, like McCloskey, as well as producers like DJ Kid, Sean da Firzt, JetsonMade, SethInTheKitchen, Producer 20, and so on. All of them were until recently complete unknowns outside their home town. Charlotte itself, with fewer than a million inhabitants, isn't a city of widespread repute either — yet. "There's definitely something bubbling right now in Charlotte," remarks McCloskey. "It's the main city between Atlanta and Washington DC, about equidistant between both of them. If you are a rapper who makes it in Atlanta, you have made it in the music industry, but if you make it in Charlotte, it didn't until recently necessarily mean that your career would take off nationally. But the city is bringing in consultants and efforts are being made to turn it into one of the new, up-and-coming music hubs, like Austin, Texas or Toronto. So hopefully over the next five years there'll be tons of great artists and new music coming from here."
McCloskey's mix session for 'Intro', the opening track and lead single from Kirk, is, like a lot of recent rap, relatively sparse, containing only 25 audio tracks. It's a trend about which McCloskey has mixed feelings. "It's really cool that Kirk is number one, and that it has been so well received. But for me as a mixer, I always wish I had a little bit more time, and could try some of the things that I do. In a lot of cases, I end up mixing vocals to the two-track of the beat, whereas I feel that I excel at mixing the beat, doing drums and things like that. But when you are stuck with just the two-track, and also are working under a tight time constraint, you can only do so much.
"On top of all that, the artist, as well as the label and management, often like the way the track sounded with the beat as just two tracks. I have increasingly noticed recently that when I do get the track-out of the beat, and I spend time improving it, I get the reaction, 'Hey, that sounds great, but could you make it sound like it did before?' You have to have the confidence as a mixer to say, 'I can beat that mix,' but there were times that I felt that my mixes basically were glorified editing, cleaning up breaths and pops and making the drums hit a bit harder. But at the end of the day, the client makes the decisions on how they want the final result to sound.
"It was frustrating sometimes, though, because I was getting work from Los Angeles, and finally getting more money for my mixes, and I was so excited, and then it suddenly was: 'Here's the reference mix, make it sound like that.' In your head, you're like, 'If you like the reference so much, why not use it?' I am a percussionist, so I hear music from the perspective of being surrounded by drums, and that translates into how I mix. But again, you have to be humble and professional, and accept that it's not about how you want to hear a mix, but about how a client wants to hear it."
Speed was definitely of the essence with DaBaby's 13-track Kirk album, which was mixed in an astonishingly short amount of time, quite possibly setting a new world record for the mix of a modern album. McCloskey explains: "One thing with Jon is that he likes to mix really fast. I first worked with him a few years ago when he did a song for a local football team, and it needed to be done immediately, and I managed to give him the sound he wanted in the time frame he had. Since then he's used me. 'Suge' also was last-minute. He calls me and says, 'We have a day to do this.' And I'm like, 'OK, let's do it.'
"With the new album, Jon's manager and A&R had been calling me about the mixes, and I kept saying, 'I have not seen the sessions yet.' Then one day Jon came into town and showed up at my studio, and we did the entire album in one, long, 24-hour session! Jon sat in on all the mixes. They were so behind deadline that it was the only way to do it. This was Saturday September 14th, going into the Sunday. For the next few days we went back in at night, and did another eight hours of recalls. Every day I thought that was it, and then there would be a request for more changes. I was with the kids during the day, and after that I stayed up all night. I did not sleep for a week! The album came out two weeks later, on the 27th."
That McCloskey achieved so much in so little time is all the more impressive considering that the most important element of the mix was not always recorded under ideal circumstances. "Jon recorded the majority of the vocals for this album in a hotel room, or on the tour bus. DJ Kid, who engineered most of the album and produced 'Intro', recorded the vocals for that track on the road. There were just one or two songs for which the vocals were tracked in a proper studio, like Paramount Studios in California. But typically, with this project they had a Sony C800 running into an [UA] Apollo Twin [interface]. DJ Kid reached out to me and asked what he could do to screen noises and get better acoustics in a hotel room or tour bus, and after that the quality of the vocal recordings got a lot better, because he was controlling the reflections in the room better."
'Intro' Written by Jonathan Kirk & De'Juane Dunwood Produced by DJ Kid
This composite screen capture shows the entire mix session for 'Intro'. (For a hi-res larger version, download the ZIP file from the sidebar.)"'Intro' is not only the opening track and lead single from Kirk, but it also sets the tone for the album, as the lyrics are about DaBaby's father, who died after the release of Baby On Baby. The 42-track Pro Tools mix session for 'Intro' has 15 drums and percussion tracks at the top, including kick, snare, hats and 808 aux group tracks. The drums are minimalist from a processing point of view, with no plug-ins on the aux tracks and only a single instance of the Waves OneKnob Filter on most of the drum tracks. The exception are the two 808 audio tracks, which have multiple plug-ins. Below the '808 Bus' aux is the vocal sample remake, spread over two audio tracks (in green), and routed to an aux bus labelled 'Weaver sample'. Underneath this is a producer tag track, and then five aux effect tracks, consisting of three delay aux tracks (with SoundToys EchoBoy, Waves H-Delay, and Valhalla Delay plug-ins) and two reverb aux tracks (Valhalla Vintage Verb and Eventide SP2016). Next down are a 'Mix Buss' track, a mix print track, and a Master track. Unusually, the vocals are below the aux effect and master tracks.
The structure of the vocal tracks consists of two verse tracks, in red, which go to a 'Verse Bus' aux, five hook audio tracks that go to a 'Hook Buss' aux, and four ad lib audio tracks that go to the 'Libs Buss' aux. The bus aux tracks do the heavy treatment, plug-in wise. "This session structure is comfortable to me," explains McCloskey. "I learned it from James Jacobs, and it mimics the way you have your master section in the middle of a mixing desk. Of course you're not confined to this setup in digital, but I like to have my auxiliary tracks in the middle, right underneath the music tracks they are affecting, and the master tracks right next to these aux tracks. I like the vocals to be below these tracks."

dababy-intro-mix-session-hires.zip