Secrets Of The Mix Engineers: Jason 'Cheese' Goldberg
Jason 'Cheese' Goldberg prides himself on being able to capture good recordings absolutely anywhere.
For Jason 'Cheese' Goldberg, working with YoungBoy means working anywhere and working fast — without compromising quality.
"Performance is the most important thing. Regardless of the recording setup or location, it's all about the performance. And recording on location helps to keep it exciting. That's the goal. I've spent many hours in the studio in my life, and being able to record professionally anywhere and at any time is just this very cool thing.
"I'm recording YoungBoy at his home in Utah at the moment, and because of house arrest restrictions, we can only work 14 hours a day from 7am to 9pm. In the past we worked 24 hours a day. I'd fly to where he was, set up the studio there and then we'd work for two weeks straight. I sleep in the studio, because I want to be ready to go whenever he is.
"He loves working early in the morning. So if he comes into the studio at 4am, ready to work, he'll say, 'Let me hear something,' and I play him things until he says, 'Pull that up.' It's how we recorded 'Emotional Torn' at 4am."
Jason 'Cheese' Goldberg clearly is not a man to do anything by halves, or to conform to a nine‑to‑five mentality, or to do anything else that's average. For starters, Goldberg's entire raison d'être as an engineer, mixer and producer is based on mobile recording. For this reason he calls his studio and company Off Road Rec. Within that context, Goldberg does many things that are extreme, whether it's working at any time of the day, working 120 hours per week, recording seven songs in one day, recording in cars, doing a final mix in five minutes, or putting 37 compressors on one vocal...
'Cheese' Goldberg conducts many of these activities when working as the righthand man of rapper Kentrell DeSean Gaulden, aka YoungBoy Never Broke Again, aka NBA YoungBoy, aka Top. Goldberg, meanwhile, picked up his nickname Cheese when he was working at a studio in Santa Monica. He managed to convince the city to stop construction work outside that was making it impossible to record. The studio manager reckoned that Goldberg was "a real Cheese Wiz" and it stuck.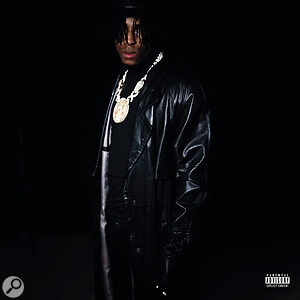 'Loner Life'- Written by Kentrell Gaulden, Jason Goldberg, Vilyam Vardumyan, Ethan Hayes, Brian Mitchell and Aaron Gilfenbain. Produced by Hurtboy AG, Hzrd, Haze, Zuus and Cheese.Goldberg played a central role in the making of YoungBoy's third album, Sincerely, Kentrell (2021), which went to number one in the US, and also on the follow‑up The Last Slimeto, released in August, which went to number two. YoungBoy is as famous for his melodic rapping in the Southern hip‑hop and gangsta rap genres as he is for his problems with the law (he's almost constantly been in and out of prison and probation since 2016, usually on gun‑related charges), and for being extremely prolific. In addition to his four albums, he's over the last few years released 21 mixtapes and 68 singles.
"Top is one of the most driven artists I've had the privilege of working with," comments Goldberg. "I think that's why we get along so well, because I have the same drive. It's an internal thing that you cannot teach. it's something that you just need to do. We work really hard. Today, during our 14‑hour session, we recorded seven songs. Yesterday we recorded five. We recorded 300 songs for The Last Slimeto!"
It's easy to see why Gaulden and Goldberg get on, despite their radically different backgrounds, with the former a 22‑year old African‑American from Baton Rouge in Louisiana, and the latter a white man a generation older from Beverly Hills. Goldberg started out playing bass as a teenager, and developed a keen interest in recording because he wanted to have more control over his music. In 2006, he attended the Institute of Audio Research in New York, continuing on to Full Sail University in Florida.
Afterwards he returned to Los Angeles to begin his internship at Capitol Records and he had the good fortune to run into Hans Zimmer's engineer Alan Meyerson soon after. Goldberg began working at Zimmer's studio Remote Control Productions in 2010. This is when the 120‑hour work week rhythm started. Following this, Goldberg worked at Windmark Recording. He's currently under management with Hallwood Media, who call him "the most sought‑after music engineer in the hip‑hop industry at the moment".
Goldberg met YoungBoy in 2019, and working with the young rapper provided the perfect opportunity to put his Off Road Rec studio philosophy into action. It's an approach that came into being over many years. "I spent a decade or so working in professional studio facilities," Goldberg explains, "in acoustically treated rooms with the best monitoring systems. This tuned my ears, not only to the acoustic environment, but the gear as well.
"Ultimately my ears are my greatest tool, because I take them into any environment, whether recording in a car, a hotel room, a tour bus. I mean literally anywhere. I've recorded on Hollywood Boulevard in a fitting‑room trailer. To be able to sit down anywhere at a table and have the equipment and know that nothing has changed in relation to the studio environment, except the space, is something I'm really proud of being able to achieve."
Some of these recording spaces have indeed been highly unusual and extremely challenging. 'Life Support', 'All In' and 'Reapers Child' from Sincerely, Kentrell were all recorded, mixed and mastered on a moving tour bus, and Goldberg recorded one of the tracks from The Last Slimeto in YoungBoy's Tesla.
No location is out of bounds if it contributes to a good performance, and YoungBoy's vocal on 'Proof' was tracked in a car.Photo: FlyGuyNick
"Here's a picture. You can see me sitting at the counter in the laundry room section of the garage with my rig set up, and Top in his Bentley, with a microphone angled in through the passenger window. The Tesla was parked three cars down about 75 feet away. So I was running three 25‑foot mic cables and three 25‑foot headphone extensions to him. It's how we recorded 'Proof' and how Khris James recorded 'Umm Hmm'.
"Why record in a car? I think it's the beautiful thing about what we are doing, because we record wherever we're comfortable, whatever feels good in the moment. At that point, hanging out in that environment was comfortable. We could watch movies in the Tesla, we could play music in the cars, and we had a video game setup. It was our little space for a bit. We also have a room in the house that looks out over the entire city where we recorded many of the tracks. It feels like you're looking at the world from the top of a mountain.
"I also think that having a few restrictions is good. When hip‑hop started, there were limitations that created a sound. We can now do anything we want in a computer, but I think having physical restrictions and making them work adds something to the sound that we create together."
Jason 'Cheese' Goldberg: Why record in a car? I think it's the beautiful thing about what we are doing, because we record wherever we're comfortable, whatever feels good in the moment.
Off Road Rec is a recording rig that can be set up in any space in 15 minutes or less.Many people think of recording on location as a compromise between vibe and technology. A funky environment may be great to get the creative juices flowing and may result in great performances, but in terms of sound quality, nothing beats an acoustically treated and insulated studio space. However, Goldberg stresses that this idea has been overtaken by time. "I've wanted to do mobile recording since 2013, but the technology wasn't really there yet for me. It's only been during the last few years that I think it's viable. I wanted proper equipment, and proper results, because I come from the studio world, where there are no restrictions on the quality of the sound recording. It was very important to me that when I decided to go and do this seriously, that nobody would be able to say, 'Well, doing it in the studio is better.' I don't want people to be able to say, 'That was recorded in a car!' because they can tell the difference. If it's impossible to tell the difference then I'm getting the job done.
"My current gear consists of a Mac Mini, Neumann KH80 monitors, a UAD Apollo x4 interface and a Sphere L22 microphone, but I recorded YoungBoy with a Neumann U87 for The Last Slimeto. I take the microphone signal into the UAD Console and run it through the UAD Neve 88RS channel strip to the UAD Tube‑Tech CL1B MkII and commit that sound into Pro Tools.
Off Road Rec as it was set up for recording 'Loner Life'."I also have an Asus monitor, a computer keyboard and trackpad mouse. Rather than use a laptop, I like to have things separate like that, because it makes me feel a little bit like I'm sitting in front of an SSL or Neve desk. It's what I'm comfortable with. I also have Sony MDR 7506 headphones for recording. I send the headphone signal out to a little $100 headphone amp for extra volume, with four channels. So if I have another writer or producer or just a guest, I can get them all headphones.
"My Pelican case has my keyboard, interface and microphone, and other accessories, and in a backpack I have my screens, cables and computer. In my suitcase I pack two weeks of clothes and my monitors. I also travel with four microphone stands. I like to have four, because I can use them to create a booth everywhere I go. I often sit on the Pelican case when I work. For example, I recorded 'Loner Life' sitting on the case, with my gear in front of me on a six‑drawer dresser. I can set up the studio in 15 minutes, and tear it down in 10. I know other people are doing this now, and I think I'm part of this movement. It's something that means a lot to me. We're helping to free and ultimately create more music."
Goldberg has multiple roles during the process of helping YoungBoy create his songs. "Throughout this process I'm wearing the mixer hat and the recording engineer hat at the same time, because sometimes those 'version ones' we do get released. The thing is that the entire process is about feeling. It took me many years to no longer be caught up in the issue of imperfections. Imperfection or perfection, it doesn't matter. It's all about feeling. The main thing is: how is the record received? And for that performance is the star of the show.
"After YB is finished, sometimes I get only about five minutes to mix, if that. I trust myself to make sure the record feels good to us. So all the work I do during the recording is super important. As I'm going, I make sure the gain is correct, I add delay throws, reverbs and all the other nuances, and in general I'm making it sound as good as possible, so that we can feel the record as we go. I'd say this is 50 percent of my mixing process. The other 50 percent is mastering, which is such a huge part of the sound. It adds slap and brings it to life.
"For example, the track 'I Hate YoungBoy' that's on The Last Slimeto, we did that record in 45 minutes. I held on to that beat from K10 for almost two years. That day it was the right piece of music, and YB said, 'Pull it up.' Forty‑five minutes later, I played it through the speakers once, fine‑tuned it, bounced it, sent it to YB's phone, and a few minutes later it was on YouTube."
Goldberg further illustrates his approach with NBA YoungBoy by elaborating on his Pro Tools session for the track 'Loner Life', a song on The Last Slimeto on which he has a co‑writer credit, and for which production credits are split between Hurtboy AG, Hzrd, Haze, Zuus and Cheese.
The complete Pro Tools session for 'Loner Life', based on Cheese's plug‑in‑heavy template.Because Goldberg's entire process is about feel and speed, a template is essential. It starts with his mix track at the top, a click track, and then 13 effect aux track with the usual complement of reverbs, delays, doublers, enhancers and more, the two‑track, two main vocal aux group tracks, a record track, 23 audio tracks for vocals, and three more vocal aux group tracks. This structure was largely maintained in the 'Loner Life' session, with the addition of 10 audio tracks for the stems of the beat.
"Yes, for this session I got the stems, and I muted the track with the two‑track. Most of what I do with the beat stems is simply not get in the way. And in many sessions I only have the two‑track. In this session I have two instances of the FabFilter Pro‑Q 3 on the stem audio tracks, for some very minor EQ, and that's it. Everything's at unity, going into the Music bus, on which I have my template two‑track settings. In this case I boosted a little bit around 1.8kHz and cut around 7.5kHz using the Pro‑Q 3, and I widened the music a bit with the iZotope Ozone Imager."
Almost all work in the session is focused on the vocals, with Goldberg's template containing masses of plug‑ins. Most of his vocal audio tracks have 10 plug‑ins in the inserts: Antares AutoTune Pro, Waves RCompressor, UAD 1176LN, FabFilter Pro‑Q 2, Waves De‑Esser (x2), Pro‑Q 2, Pro‑Q 3, Waves RVox and Avid D‑Verb. All audio tracks go to vocal aux busses, which again have 10 plug‑ins on the inserts, and 10 sends that go to the aux effect tracks near the top of the session. The plug‑ins on the inserts of the bus tracks are a Waves De‑Esser, FabFilter Pro‑MB, Waves L1, UAD SSL Channel, Waves De‑Esser, Waves C4, Waves CLA Vocals, Waves Q10, Oeksound Soothe and FabFilter Saturn. Some of the aux effect tracks have multiple plug‑ins, and the Mix bus has another 10, which means that if all plug‑ins were used, there could be well over 40 treatments per vocal!

Soundtoys' Sie‑Q was used to make the lead vocal 'crispier'.
Goldberg traces the signal chains, starting with the vocal audio tracks, which are under his record track. "I go by colours. So all the purples are my main lead vocals, which go to the Vox B1 bus, via the Hi EQ track, which has the Soundtoys Sie‑Q. I added that track because I wanted the leads to be a little crispier than usual because of the style of this song. So I pushed some top end and midrange with the Sie‑Q, and after that I have the usual treatments on my B1 bus.
Cheese creates vocal delay throws and other spot effects by cutting out individual words and moving them onto template tracks with the requisite effects."Below the lead vocal tracks are two tracks with 'ooohs', which is one of my favourite moments in the song when it hits at 1:46. Below that are green and orange tracks, which are duplicates of stuff that exists elsewhere in the session. I copied bits of vocal to these tracks, and added delay throws on the orange tracks, and reverbs on the green tracks. I work so fast that I found that doing it this way gives me more control. I can add texture to a sound with just two clicks. I just adjust the clip gain on the tracks, and it means that everything is getting mixed right away.
"Below the 'bright' and 'dark' long reverb throw tracks is the Vox C1 aux, and underneath that a number of audio tracks with ad libs, vocal stabs, and any sort of cool little singing melodies that I wanted to effect. They all have a textural function in the track. The two Stab tracks go to the C1 aux, because I wanted these stab vocals to have a slightly different sound than the main lead vocals.
"Everything from the OneKnob tracks to the Backgrounds tracks goes to the Vox AD1 aux bus, which adds more texture. The Background L and Background R tracks appear at the beginning of the track. They are very wide left and right, and I use the Doubler on them, and also a Valhalla Reverb, Waves H‑Delay and the Air Chorus. The four ad lib tracks at the bottom go to the Vox AD2 aux track, on which I have yet more effects. They give me a kind of wall of sound, but with vocals. So I have four different blends of vocals, which allows me to differentiate them, with the lead vocal the most natural."
This screenshot shows just a few of the 39 plug‑ins the lead vocal passed through on its way from mic to master!The above still leaves the burning question of how and when Goldberg treats his vocals with a whopping 37 stages of compression. "Actually, technically it's 39 stages," explains the producer‑engineer, "because you also have to count the two UAD plug‑in compressors on the input stage during recording! The rest of the compressors start with the inserts on the purple track: Waves RComp, the UAD 1176LN, the Waves De‑Esser, and then the RVox.
"Then the lead vocal goes to the Sie‑Q, and then into the B1 lead bus, with another De‑Esser, the Pro‑MB, the Waves SSL E‑Channel, the L1 limiter, then another Waves De‑Esser, then the Waves C4 multiband compressor with all four bands used, then the Waves CLA Vocals with the compressor engaged, then the Soothe and finally the Saturn. I count the de‑essers as compressors because they attenuate specific frequencies. One of the sends goes to the NY aux, which has the Avid BF76, another to the Exciter, with the Waves Aphex Vintage Aural Exciter, and the Overdrive track with the Soundtoys Decapitator.
"That's all pre‑master. On the master [Mix bus] I have the Waves L2, the Waves L3 Maximizer with five bands engaged, the Plugin Alliance Black Box Analogue Design, another L2, and then the iZotope Ozone for a final polish, with two compressors engaged for the low end."  
Jason 'Cheese' Goldberg is not only YoungBoy's engineer and mixer; he is at the heart of the rapper's creative process in other ways too. He often is the rapper's public face, regularly posting what the two are up to on Instagram, and his work involves liaising with producers to source beats. In so doing he acts as a producer, and sometimes as co‑writer. "A lot of the music that we do is based on the communication that I have with around 200 producers. I'm always talking to everyone, and I let them know what vibes we're working with. When Top tells me he's ready to record, I go out and I'll hit everyone for music. I can get about a thousand beats in eight hours! I'll then go through them and select a direction, or several directions, and categorise them. I find this helps to alleviate the frustration of going through hundreds of beats for hours and it helps with the recording process. That's ultimately why I started taking a more active role in doing this.
"That's the beginning of the record‑making process. I regularly talking to each individual producer, and tell them where we're at. We've really got some of the great records that we've made together that way. Being a musician helps me communicate on that level. When YB likes a beat he says 'pull that up,' and I put my engineer hat on, drop the two‑track into my recording template, get the bpm and the key, and we go.
"YB writes off the top of his head, and he is really fast. A song typically takes one to two hours to complete. Within those one or two hours I'm not only recording, but also moving things around, and mixing. I may be slicing parts and putting parts together that weren't together. That's where my co‑writing credits come from. I don't add to the beats, although I may communicate some adds to the guys. We all trust each other to do what we do."