Immersive mixing plug-in bundle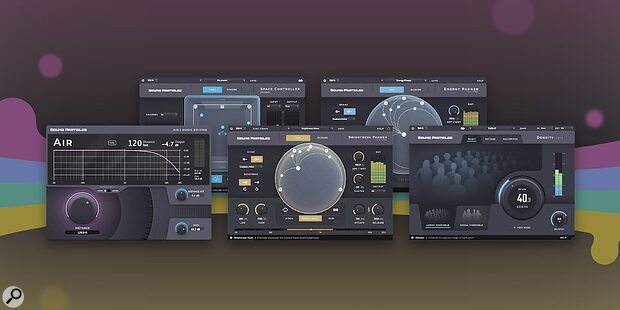 Sound Particles have announced the release of the Spatial Music Bundle, a collection of plug‑ins aimed at those mixing music in immersive formats.
The bundle contains the company's Energy Panner, Brightness Panner, Space Controller Studio, Density, and Air | Music Edition plug‑ins, which they say provide the perfect toolkit for spatial music mixing. It's not just users of multi-channel surround and immersive systems that benefit however, with the bundle promising to also deliver impressive results for those working in stereo.
Energy Panner uses a source signal's amplitude to trigger a range of auto-panning effects, whilst Brightness Panner applies movement based on a signal's frequency content. Space Controller Studio allows users to connect their mobile device and have its movements tracked by the plug‑in, enabling sources to be panned based on the direction the device is pointed towards. Density is capable of generating layers of sounds based on its input source, turning solo instruments or voices into ensembles, for example, whilst Air | Music Edition simulates the effect of air dampening, allowing users to add natural-sounding ambience to close-miked sources.
We've carried out in-depth reviews of four of the plug‑ins in past issues of SOS, so take a look at the articles below for more information.
"We decided to create a bundle specifically for our music production audience so it's easier for them to transition into the immersive world. Whether they're working with stereo or spatial, the results are incredible. We believe this pack of plug‑ins will empower their music to another level." - Nuno Fonseca, founder and CEO of Sound Particles
Pricing & Availability
The Spatial Music Bundle is available now, with a retail price of $440£343.20 including VAT / €390. Sound Particles are offering an introductory discount of 20% until 21 November 2022.
https://soundparticles.com/products/bundles#spatialmusic