First effects plug-in from sample library and preset developer
SoundGhost, a company who specialise in producing sample libraries and synthesizer preset collections have announced the release of their first plug-in, Texturize. Described as a "reactive noise enhancer", Texturize is an envelope follower effect that layers abstract noise samples over the incoming input signal.
The plug-in's UI has been designed to be clean and easy to use, featuring six main controls positioned underneath a box that indicates the currently loaded sample. Rise and Fall controls provide control over the envelope's attack and release stages, allowing users to control the time taken for samples to fade in and out. A Volume control sets the relative level of the sample compared to the input signal, and a Pitch control allows adjustment of the samples pitch in semitone increments. Lastly, 24dB high and low-pass filters are provided to allow adjustment of the sample's frequency range.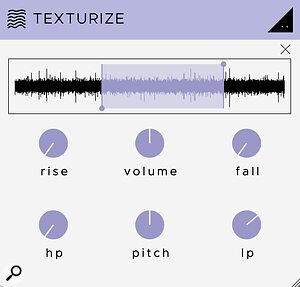 Loop points for samples can be set within the plug-in. A Sounds Browser is included to navigate the plug-in's samples, of which over 200 are included covering variety of sources ranging from abstract electronics to foley. Users are also able to import their own samples, with WAV, MP3, AIFF, FLAC and OGG file formats all supported, and they can then be saved inside the plug-in and recalled for future use. A waveform view is also present, allowing the start and end points of loaded samples to be edited within the plug-in itself.
The plug-in is available in the AU and VST3 formats, and is supported on Windows 8 and above, as well as macOS 10.12 upwards, with native support for Apple's M1 processors.
Texturize is available now, with SoundGhost currently offering an introductory price of £29 including VAT, compared to the usual price of £39 including VATpricing details available on the SoundGhost website.
https://soundghost.net/product/texturize/