Software to keep you sane during self-isolation
Staying sane during social isolation isn't easy, but a number of software companies have stepped up to the plate to offer either discounts or price-waiving on some of their audio tools, or in some cases generous demo terms that let you use their premium software for free for an extended period.
We're getting news of offers sent to us all the time and we'll try and be as inclusive as possible, but if you know of any special offers that we've not listed here, please feel free to email the SOS news desk at news@soundonsound.com.
Alan Parson's Art & Science of Sound Recording
Alan Parson's Art & Science of Sound Recording series of educational videos is available for a new low price to help you self-educate while you're stuck at home. You can stream the complete set an unlimited number of times for just $49, or get unlimited downloads for just $99.
Antelope Audio
Until the end of July, anyone who purchases a Synergy Core interface will also receive the full version of Bitwig Studio DAW, and an Edge Solo modeling mic for free.
Apple
90 day trials of Logic Pro X and Final Cut Pro X available now.
Axsens Music
German DJ and producer Jon Sine has, through his record label, released a free Quarantine Kit sample library, which contains over 500 samples and sound files, including loops, one-shots and Serum patches.
Cherry Audio
Voltage Modular Nuclear starter pack is now available completely free, plus discounts on third-party modules via the Voltage Modular online shop.
EastWest
60% off ALL products, and a reduced annual price of $199 for a Composer Cloud subscription.
Kali Audio
Price drop announced on the LP-8 monitor — which now costs just $199 per speaker.
Mammoth Audio
Vikram Gudi's company Mammoth Audio are giving away a free version of their acclaimed Density software instrument. The Lite version contains 85 samples, and uses the same GUI as the full edition.
Moog Music
Download Moog's Minimoog Model D iOS app for free (app normally sells for $4.99).
Mix With The Masters
Until the end of July, Mix With The Masters are offering a 20% discount to SOS readers who take out a Pro subscription to their premium online seminars and masterclasses. Just follow the link above and use the code STAYHOME-SOSJULY.
Nugen Audio
Plug-in makers Nugen are offering 20% off their entire software range, as well as a two-month licence extension on select plug-ins for users with iLok authorisation.
Plugin Alliance
Free 30 day trials of ANY of their plug-ins (all 124 of them!), and all previous trials have been reset, so you can still try out software if you've used a trial version before.
Prime Loops
Lockdown loop library released for free! Contains 100 individual loops, or 280MB of audio content.
ProjectSAM
Sampling expers ProjectSAM are giving away a new Free Orchestra instrument, comprising a full gigabyte of sounds derived from their premium instruments, and compatible with the free NI Kontakt Player.
Protege
Online production school Protege is offering a free week of premium tuition, led by multi-award-winning producer/composer duo Richard Schrieber and Vikram Gudi.
Solid State Logic
SSL have released a new affordable plug-in bundle called Native Essentials, which comprises their acclaimed Bus Compressor and ChannelStrip processors. It's available for just $4.99 a month.
Sonible
New Balancer auto-level-setting plug-in released free of charge. In addition, they're giving away a free 80's-style arcade game, and whoever gets the highest score on it each day wins one of Sonible's premium plug-ins!
Spitfire Audio
British sampled-instrument experts Spitfire are offering their BBC Symphony Orchestra Discover instrument for free, as a way of helping aspiring composers who can't stretch to the normal £49 price. All you have to do is complete the questionnaire at the link above.
Sweetwater & iZotope
US customers can get a copy of iZotope's acclaimed Ozone Elements 9 absolutely free, thanks to a tie-in with online retailers Sweetwater.
TapeWrm Audio
New software company TapeWrm Audio are offering their Producer's Bundle of creative processing plug-ins for just $60, down from the usual price of $110.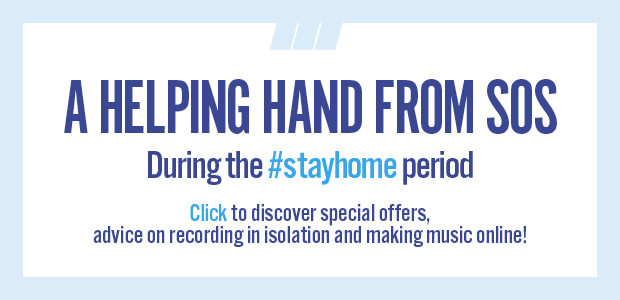 https://www.soundonsound.com/covid-19