Native plug-ins now available for PC users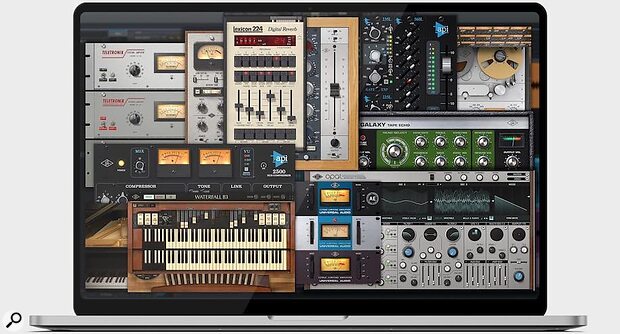 Universal Audio have announced that their plug-in subscription service, UAD Spark, is now available for Windows users. Offering an expanding collection of UAD plug-ins and instruments from Neve, Moog, API, Studer, Teletronix, Universal Audio and more, UAD Spark runs natively with no Universal Audio hardware required.
The plug-ins currently available in UAD Spark are as follows:
Reverbs, Delay & Modulation
Lexicon 224 Digital Reverb
Studio D Chorus
Brigade Chorus
Galaxy Tape Echo
Pure Plate Reverb
Preamps, EQ & Tape
Neve 1073 Preamp & EQ Channel Strip
API Vision Channel Strip
Studer A800 Tape Recorder
Pultec Passive EQ Collection
Hitsville EQ Collection
Compressors
API 2500 Bus Compressor
UA 1176 Classic Limiter Collection
Teletronix LA-2A Leveler Collection
UAD Instruments
Moog Minimoog
Opal Morphing Synthesizer
Waterfall B3 Organ
Ravel Grand Piano
"We launched the UAD Spark plug-in subscription earlier this year, bringing the authentic and inspiring sounds of classic studio and music gear to creators, with or without UA hardware. Today, we're thrilled to be able to extend that vision and bring professional UA sound to our Windows community as well." - Bill Putnam Jr., founder and CEO of Universal Audio
Windows 10 and Windows 11 operating systems are now supported, and UAD Spark plug-ins are available in VST3, AAX and AU formats.
For more information on the native plug-ins, check out our review in the July 2022 issue of SOS (print/ web/ app/ replica/ PDF editions).
Pricing & Availability
A UAD Spark subscription is priced at $19.99/month ($149.99/year) with a 14-day free trial available. Volt USB audio interface owners receive an extended 30-day free trial, and existing owners of perpetual UAD plug-in licenses receive the corresponding native UAD Spark plug-ins for free.
https://spark.uaudio.com/