Podcast Studio Console & Audio Interface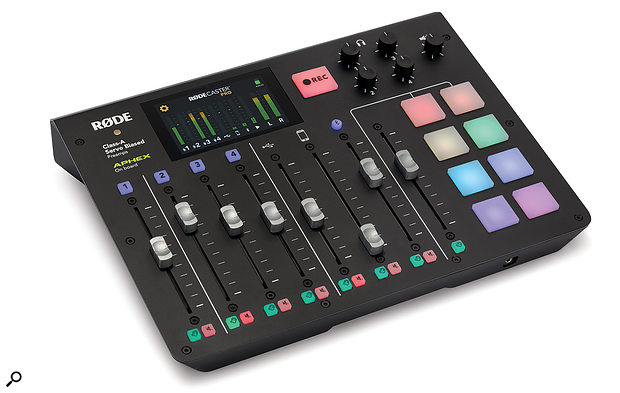 The RodeCaster Pro is a one‑stop shop for creating high‑quality podcasts.
Make no mistake, podcasting is getting to be a very serious business. And for those who want to create radio show-style productions that include music, cues, jingles or sound effects as well as up to four miked voices, the RodeCaster Pro looks to be a very user-friendly and technically capable option. It incorporates on-board recording and playback facilities via a Micro SD card, and there are four microphone inputs with the provision of phantom power, plus further inputs for USB audio, a hardware music player or phone and Bluetooth audio. The RodeCaster Pro can also function as a two-channel, bi-directional audio interface.
Each of the RodeCaster Pro's seven input sources is controlled by its own fader, with a separate fader to control the overall level of its eight playback pads. These allow for triggering sound effects, cues, music and so on, and the pads can be 'loaded' via direct recording or via a simple drag‑and‑drop routine when connected to your computer.
There are four separate headphone outputs on the rear panel of the RodeCaster Pro console, each with its own rotary level control, plus a pair of balanced TRS jack speaker feeds suitable for direct connection to powered monitors. Only the first headphone output follows the channel solo operation, so the operator can check on sources without interfering with what the other three listeners hear. During recording, a timer shows how long your recording has been running for. A large red...
You are reading one of the locked subscriber-only articles from our latest 5 issues.
You've only read 20% of this article, so to continue reading...
Option 1: Buy and download this single SOS article in Adobe PDF format
Buy this article now and immediately download the PDF file to your computer.
Single article PDFs look identical to the printed magazine layouts (but exclude advertisements).
Note: Some shorter articles don't always have a PDF version.
Option 2: Buy the Full Issue PDF **NEW**
From the January 2018 edition onwards, it is possible to buy a FULL ISSUE PDF 'replica magazine' (with adverts) for the price of a handful of single PDF articles, and instantly download it. More info...
Option 3: Buy a Digital subscription and open ALL web articles instantly!
A DIGITAL sub can be bought from our online Shop

Store

and used immediately. It opens ALL web articles, the tablet edition, plus Full Issue PDF download... or contact our Subs staff to discuss an upgrade price to add Digital access to your existing Print subscription.