Podcast Studio Console & Audio Interface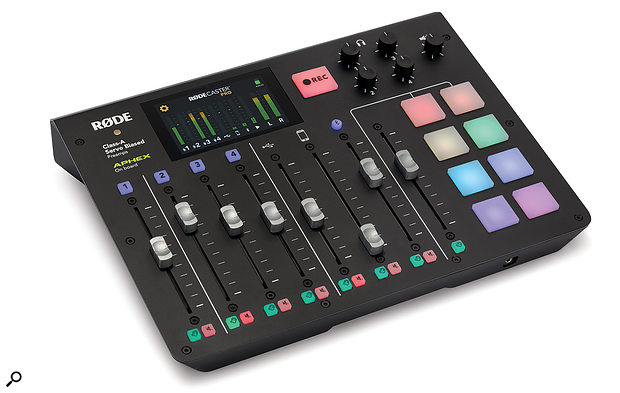 The RodeCaster Pro is a one‑stop shop for creating high‑quality podcasts.
Make no mistake, podcasting is getting to be a very serious business. And for those who want to create radio show-style productions that include music, cues, jingles or sound effects as well as up to four miked voices, the RodeCaster Pro looks to be a very user-friendly and technically capable option. It incorporates on-board recording and playback facilities via a Micro SD card, and there are four microphone inputs with the provision of phantom power, plus further inputs for USB audio, a hardware music player or phone and Bluetooth audio. The RodeCaster Pro can also function as a two-channel, bi-directional audio interface.
Each of the RodeCaster Pro's seven input sources is controlled by its own fader, with a separate fader to control the overall level of its eight playback pads. These allow for triggering sound effects, cues, music and so on, and the pads can be 'loaded' via direct recording or via a simple drag‑and‑drop routine when connected to your computer.
There are four separate headphone outputs on the rear panel of the RodeCaster Pro console, each with its own rotary level control, plus a pair of balanced TRS jack speaker feeds suitable for direct connection to powered monitors. Only the first headphone output follows the channel solo operation, so the operator can check on sources without interfering with what the other three listeners hear. During recording, a timer shows how long your recording has been running for. A large red Record button starts and stops recording and a new file is created each time recording is started. If a phone is connected using a TRRS cable or Bluetooth, telephone interviews can be included in the mix — and an Auto Mix Minus facility eliminates echoes in the monitor feed when using a phone.
Sounds for the playback pads are stored on an internal 512MB flash memory, which has more than enough capacity for intro and outro music plus short cues or jingles. Software for loading these pads by copying WAV files from a connected computer comes as a free download, though you can also record material directly into the pads in stand-alone mode. The RodeCaster Pro software simply shows eight pads onto which files are dragged as required, and their coloured backlights can be set to different colours if you like.
The RodeCaster Pro console is equipped with Class‑A mic preamps, and further voice enhancement can be added via the Aphex-on-board circuitry that provides both an Exciter (for adding harmonics to brighten the sound) and Aphex's low-end Big Bottom enhancement. Aphex invented the Exciter so this is the real deal. The RodeCaster Pro also incorporates compression, limiting, de-essing and noise-gating as part of various types of voice-processing characters from which you can choose, so there are all the tools you need to create a radio-style voiceover. An Advanced mode allows these processors to be turned on or off individually, but does not cater for parameter adjustment — the design ethos is to keep things simple for the operator.
Used without a computer, the RodeCaster Pro works in stand-alone mode to allow real-time radio broadcast-style recording to a Micro SD memory card (the internal memory is just for storing the pad sounds), but you can also hook it up via its rear‑panel USB port to a computer, where it appears as a class-compliant stereo audio interface that works with your DAW — a good option if you need to edit what you've recorded (there are nearly always 'ums', 'ers' and fluffed lines to edit out... at least, there are when I'm doing it!). Using the USB output allows a recording to be made on the computer at the same time as to the Micro SD card. Note that if you want to erase recordings or transfer them to a computer for further editing, the Micro SD card has to be removed and then hooked up to the computer via a card reader, so capturing your recording to a suitable DAW on your computer as you go along will save time. I'm hoping that a future firmware update will make file transfer possible without having to remove the card, as having to do this adds an inconvenient step to the otherwise silky-smooth workflow.
At the time of doing this review I hadn't managed to find a manual either in the box or online — and it turns out that there isn't one. That's because any necessary instruction comes from online video tutorials, but even without them you can explore pretty much everything in a purely intuitive way as operation has been kept as simple as possible. The touchscreen 'cogwheel' icon takes you to settings for recording and for playing back podcasts; it's here that you choose the best processing preset to suit your voice, tell the RodeCaster what type of mic you have connected (specific Rode models and generic dynamic or capacitor types), pair Bluetooth devices and set your recording levels. That's pretty much all you need to do — there's nothing geeky to get in the way.
The RodeCaster Pro weighs a little under 2kg and measures 350 x 275 x 82mm.
If you take any notice of what is said on forums, the most common gripe is the current lack of a multi-channel recording facility. If you assemble your podcasts in the style of a live radio programme and need a stereo file as the finished product, the RodeCaster Pro does the job exceedingly well. Having said that, news reached me just as I was finishing this review that a firmware upgrade will add multitrack recording when in Advanced mode. I'm told this will allow up to 14 tracks to be recorded including separate tracks for the four mic inputs and stereo tracks for the USB, 3.5mm TRRS, Bluetooth and sound pad channels. Hopefully the update will be available by the time you read this.
The other recurring forum whinge is the lack of tweakability in the effects/processing department, but again the RodeCaster Pro has been designed to help non-technical people create a polished end product. So, being able to turn things on or off in Advanced mode or having the decisions made for you when you select from one of three voice types and one of three processing intensities is probably all that's needed. Certainly I was very happy with the voice timbre I achieved.
In use, those long faders on the front panel control the playback level very smoothly, making it easy to balance multiple voices against any pad-triggered music, phone-ins or sound effects. All eight pads come pre-loaded with some fun sounds such as applause and laughter, but it is easy to record your own. As a test I used the software to drag and drop some of the SOS podcast cues on to the pads, then I put together a short podcast, which was incredibly easy. Music and cues stay in stereo while the voice is panned centre.
Music or interviews can also be streamed in from a phone, either with the TRRS jack or via Bluetooth (you could bring in two devices at the same time by employing both), so in all essential respects what you have in front of you is a mini radio production system complete with phone-in capability. The sound quality is excellent and being able to trigger music and effects from the pads makes creating a podcast extremely fast and intuitive.
As well as podcasting, the RodeCaster Pro is an ideal platform for recording talking books that require sound effects, or radio-style plays with up to four performers. I can't stress too highly how comfortable the RodeCaster Pro is to work with, and the only things that I hope Rode will add in a future update is the ability to delete recordings directly from the front panel, and to make it possible to transfer recordings to a computer without first having to remove the Micro SD card and then connect it to the computer using a card reader. In all, though, a very enjoyable user experience.
Pros
Spacious and uncluttered control surface.
Four mic inputs and four headphone outputs.
Pads for triggering cues.
Bluetooth and TRRS jack phone connections.
Dead simple to use.
Clean and quiet in operation.
Firmware update will add multitrack recording capability.
Cons
Currently the Micro SD card has to be removed and placed in a card reader to move files to a computer.
Summary
For podcasters who don't like to get too technical but who demand high‑quality results, the RodeCaster Pro does an excellent job. It isn't the solution for those looking for multi-channel USB operation or effects tweakability, but then it isn't designed with the technical user in mind.