A brand new vocal tuning plug-in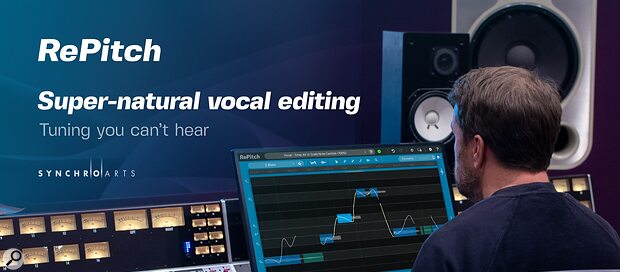 Today marks the release of RePitch from Synchro Arts, a new vocal pitch editing plug-in that draws from their 25 years of vocal processing expertise. The creators say they designed the plug-in to deliver natural-sounding results, a speedy workflow and seamless DAW integration.
RePitch enables adjustment of pitch, timing and volume of any monophonic vocal or instrument. Synchro Arts have based the plug-in's pitch analysis on fundamental principles of human hearing, which they say results in an incredibly natural and 'undoctored' processed sound. For a quick workflow, RePitch also comes with a set of task-oriented macros. These help to complete simple and basic tuning tasks quickly, and more detailed editing can be achieved with the graphical editor. This tool allows users to take precise command of pitch, timing, vibrato, formants and sibilance, among other parameters.
RePitch works in every major DAW with its VST, AU and AAX plug-in versions, and ARA2 (Audio Random Access) integration allows support for enhanced workflows with compatible DAWs. You can also connect RePitch to Synchro Arts' industry standard VocAlign Ultra plug-in, for instant transfer of pitch and timing edits to double tracks and background vocals. 
Availability
RePitch is available now at an introductory price of £125/ €140$174, increasing to £178/ €197$249 after 30th September. A 14-day trial is also available from the website.
https://www.synchroarts.com/products/repitch/overview