Composer Danny Elfman.Photo: Jacob Boll
Grammy and Emmy Award‑winning American composer Danny Elfman first came to public attention in the 1980s as leader of new wave outfit Oingo Boingo. In the 1990s, he segued into film and television scoring and has composed music for over 100 films including Batman, Men In Black and Spider‑Man, along with television themes for popular series such as The Simpsons as well as numerous advertising campaigns.
He recently released his latest solo album Big Mess, and chose 'True', a track from the album, as his favourite sonic achievement.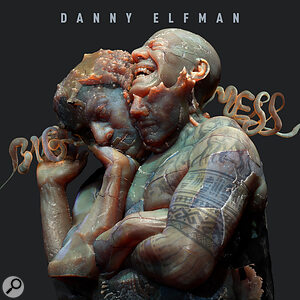 "I built the track outside of my usual studio, due to having been in quarantine with my family outside of the city. Because of that I had very little gear with me. In this location I had no studio, only a small writing room to record in. I did have my computer, of course, with my samples, and Digital Performer, which was my DAW for all my recordings on Big Mess. But I only had one mic, one guitar and a pair of headphones — which didn't even work!
First, I started building the rhythm section using synths I programmed for the bass, which the whole song revolves around, and electronic drum samples I had. When I got a nice heavy feel I liked, then I began improvising on the guitar. I was playing rhythmic patterns, strumming really hard to get overtones...
You are reading one of the locked Subscriber-only articles from our latest 5 issues.
You've read some of this article for free, so to continue reading...
Log in - if you have a Subscription you bought from SOS.

Buy & Download this Single Article in PDF format

£1.00 GBP

$1.49 USD


For less than the price of a coffee, buy now and immediately download to your computer or smartphone.

Buy & Download the Full Issue PDF
Our 'full SOS magazine' for smartphone/tablet/computer. More info...

RECORDING TECHNOLOGY: Basics & Beyond
Claim your FREE 170-page digital publication
from the makers of Sound On Sound — CLICK HERE