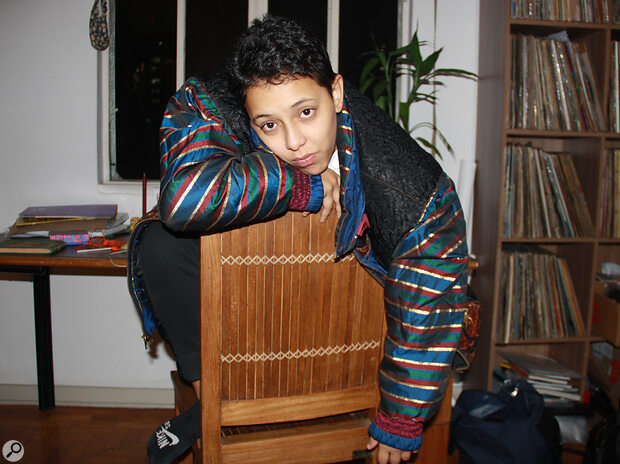 Photo: Thais Oliveira
The world of production has never been more diverse, more accessible or more exciting than it is now. Burgeoning producers who might previously have never had the opportunity to step foot inside a recording studio and prove their worth are making staggering records in all kinds of environments and cultures, and with all kinds of gear — expensive or rudimentary. Badsista, aka Rafaela Andrade, is one. Now a globetrotting producer and DJ, her work with artists like Lei Di Dai Linn da Quebrada and the Multishow Brazilian Music Award winner (in Portuguese: Prêmio Multishow de Música Brasileira) Jup do Bairro has seen her grow into one of Brazil's most eminent electronic music producers. These days she lives in the Cangaíba district of São Paulo, where she is currently working on a project with MC and singer Brisa Flow, as well as on an album of her own.
"It's nice to see other realities," she says. "You want to ask me about my favourite gear and things like that, but for us in Brazil it's not so easy to buy things. The taxes are really high, and equipment is only a reality for the people who have the money. I only started to buy my things last year, like my KRK monitors. A friend gave me a microphone. I have a keyboard controller that another friend gave me as payment to work on her album. Right now I have a proper room to work in, but in the house I used to work in I had to use the living room. There was a lot of noise. It's another reality." She then pauses for a moment before adding, "we can use the word 'ghetto', I think."
At the moment I can't stop listening to
Ahh… The things I'm doing with Brisa Flow! Because, she is writing in Spanish and we have this big connection doing music. We really understand each other. I'm listening to it a lot. I'm really enjoying it. I'm also listening a lot to Brisa Flow's last album — it's really good. I'm also listening to Amy Winehouse, too. I never get tired of it. I wish it was possible to make an album through a medium, or something like that! It's so sad. I wish we could have another album from her. I thought she was an amazing singer, and I really like the way she wrote her lyrics. The way that she was talking about her life. I really like people who write like that. It's not difficult to understand what they are trying to say.
The project I'm most proud of
So, last year I worked with music director Jup do Bairro who is a great, great friend of mine. We used to work together in Linn da Quebrada's band. Linn da Quebrada and Jup do Bairro are both travestis — I don't know how to say that in English — trans‑girls? They were the two people who believed in my kind of sound. In the kind of sound that we could build together. It's so special that they're still alive, you know. Because in Brazil the trans population are living...
You are reading one of the locked Subscriber-only articles from our latest 5 issues.
You've read some of this article for free, so to continue reading...
Log in - if you have a Subscription you bought from SOS.

Buy & Download this Single Article in PDF format

£1.00 GBP

$1.49 USD


For less than the price of a coffee, buy now and immediately download to your computer or smartphone.

Buy & Download the Full Issue PDF
Our 'full SOS magazine' for smartphone/tablet/computer. More info...

RECORDING TECHNOLOGY: Basics & Beyond
Claim your FREE 170-page digital publication
from the makers of Sound On Sound — CLICK HERE